Quickie

Lake Tegern - Pustertal Valley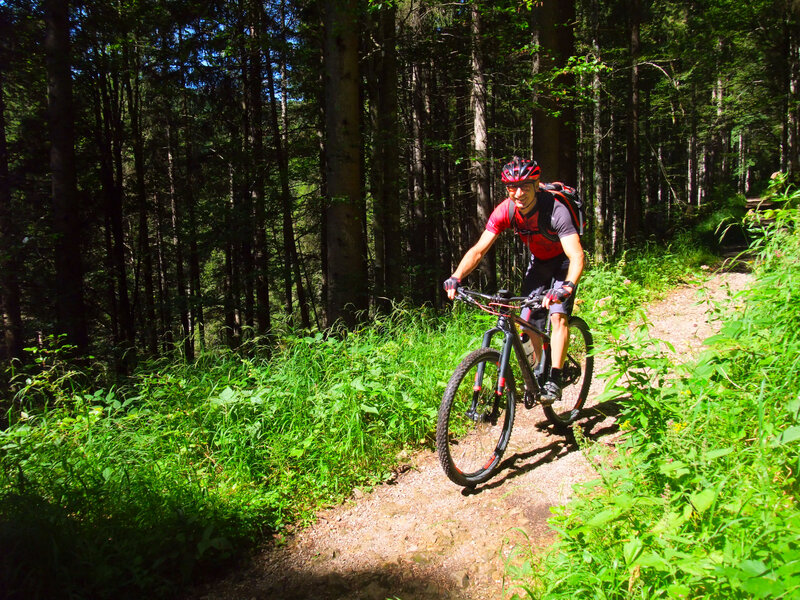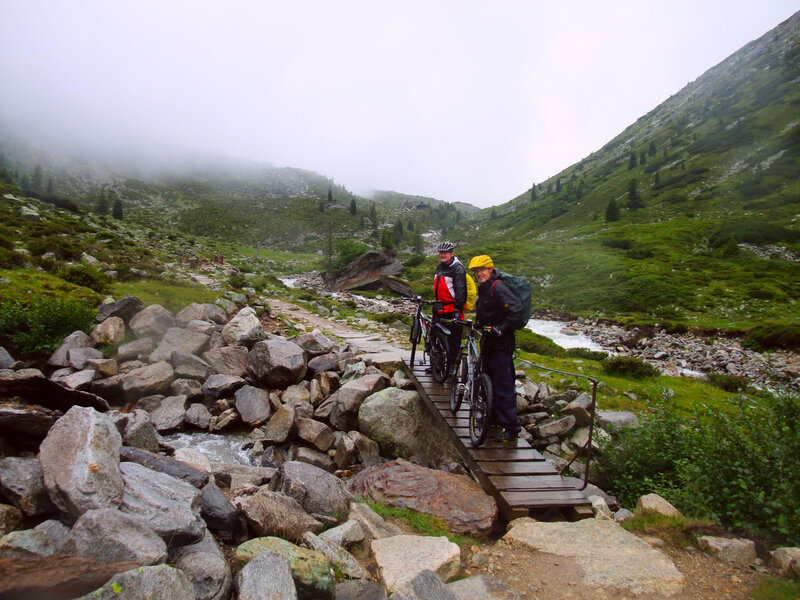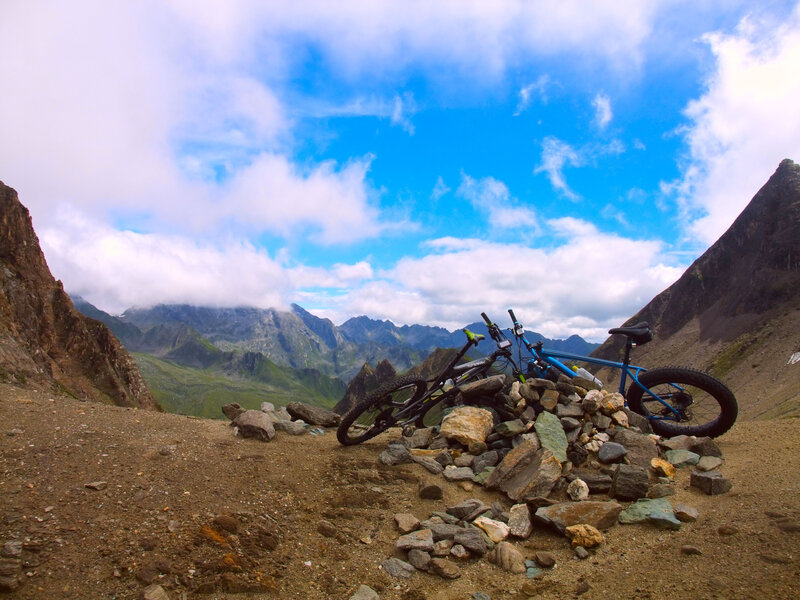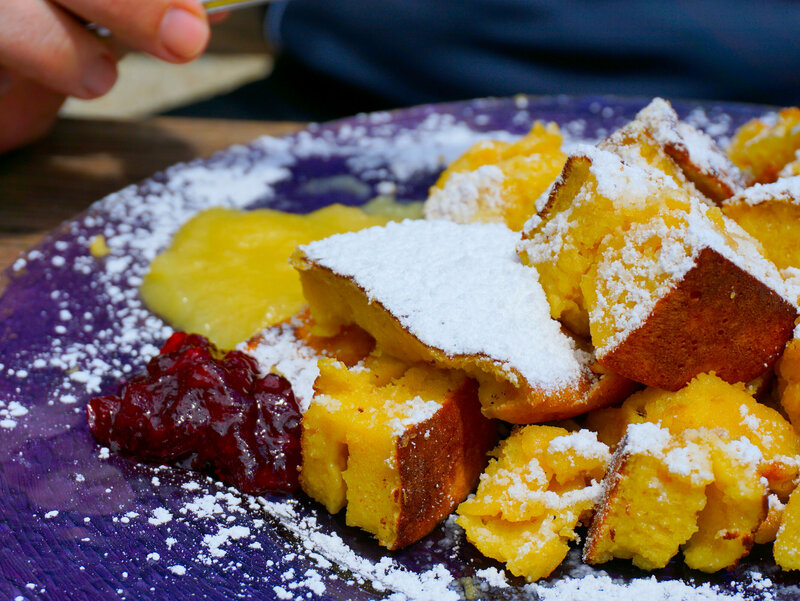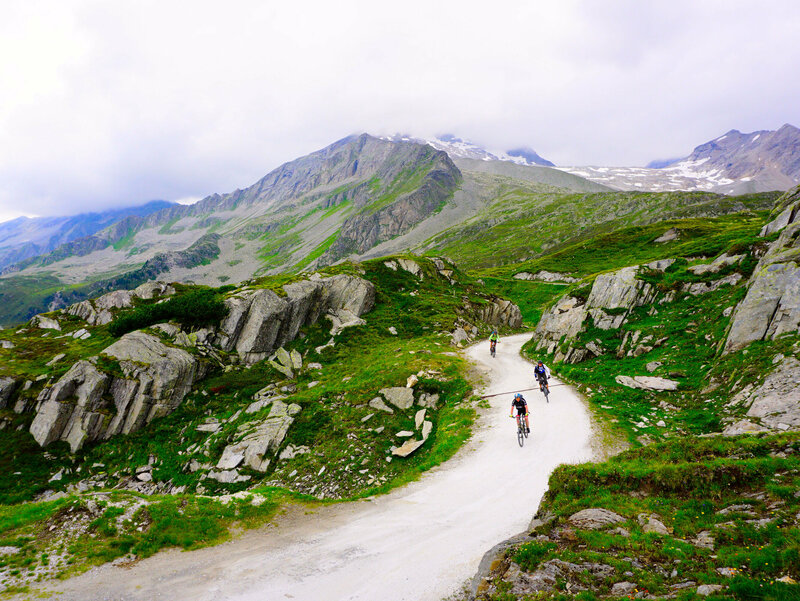 Lake Tegern - Pustertal Valley
Facts
This tour leads us across beautiful forest tracks and country lanes from Tegernsee into the Puster Valley. With about 4900 m of ascent and 200 kilometers this is a moderate Transalp. Ausgestattet mit Kartenausschnitten, Roadbooks und Hinweisen auf touristische Highlights, radelt Ihr in Eigenregie über die Alpen. Wir übernehmen die Reiseorganisation. Zu Eurer eigenen Sicherheit könnt Ihr Euch ab zwei Personen zu einer individuellen Transalp anmelden.
Requirements
Apart from a few sections where you have to push or carry your bike the whole tour is easily passable. For the downhill passages a good driving technique and bike control are essential. A very good level of fitness is necessary for this tour.
Highlights
Landscapes: Wonderful single-trails upwards to the Pfitscher Joch with a view to the area of the Grenzkamm. The Pfunderer Joch, one of the most beautiful passes of the Alps which you can experience with your mountainbike. Wonderful mountain huts in the South Tyrolean mountain world.
Route
This tour leads from Tegernsee into the Inn Valley. Further we ride through the Zillertal Valley and at the Pfitscher Joch over the main ridge of the Alps to the Pfitscher Valley. Over the Pfunderer Joch we get into the Weitental and finally into the Puster Valley.
Selbstanreise nach Kreuth am Tegernsee, Check-In, Abendessen, Tourbesprechung.
Wednesday
Etappe 1 - Von Kreuth nach Stumm: ca. 90 km; ca. 1800 hm
Richtung Wildbad Kreuth Erzherzog-Johann-Klause startet die Etappe durch die Brandenberger Ache nach Brixlegg. Nach einem kurzen Stück entlang des Inns macht ihr einen kleinen Schlenker ins Alpbachtal und fahrt vorbei am Reither Kogel über eine Höhenstraße ins Zillertal. Die letzten Kilometer radelt ihr am Flussufer der Ziller entlang bis nach Stumm.
Thursday
Etappe 2 - Von Stumm ins Pfitscher Tal: ca. 60 km; ca. 1800 hm
Nach ca. 15 Kilometern Einradeln auf dem Zillertalradweg erreicht ihr Mayrhofen. Hier beginnt der Anstieg zum Pfitscher Joch auf 2246 m – das sind über 1600 hm am Stück! Ab Ginzling geht es auf einer alten Straße Richtung Gasthof Breitlahner und von dort rechts auf die ausgeschilderte Mountainbikeroute zum Schlegeisspeicher. Hinter dem Stausee erwartet euch der Anstieg zum Pfitscher Joch: Ein Wanderweg schlängelt sich vom Schlegeisspeicher bis zum Pfitscher Joch Haus hinauf. Teilweise fahrbar, teilweise muss geschoben oder getragen werden. Belohnt werdet ihr mit einem Cappuccino auf der Hütte – ihr seid jetzt schließlich in Italien. Auf einer aussichtsreichen Schotterabfahrt geht es in Pfitschertal.
Friday
Etappe 3 - Vom Pfitscher Tal nach Mühlbach: ca. 50 km; ca. 1300 hm
Heute legen wir noch mal einen drauf: Euch erwartet ein weiterer Höhepunkt: Die Abfahrt vom Pfunderer Joch - dem höchsten Punkt der Tour. Doch erstmal heißt es steile 1200 hm hochkurbeln. Dafür habt ihr den ganzen Tag Zeit. Das Gipfelglück auf 2570 Metern sowie der endlos erscheinende Downhill ins Weitental entschädigen für alle Mühen des Tages!
Saturday
Nach dem Frühstück Rücktransfer nach Kreuth am Tegernsee.
Services, dates and prices
Arrival
Selbstanreise nach Kreuth am Tegernsee.
Services
4 x ÜF im DZ in guten und gepflegten Hotels/Pensionen, z.T. mit Sauna und Pool
4 x HP
Gepäcktransport
Begleitfahrzeug
Buch mit Tourenbeschreibung und GPS-Tracks
Kurzeinweisung durch ULPbike Guide am Anreisetag
Handynummer eines ULPbike Guides
Rücktransfer
Dates
I2TP9
Early Bird
Super Early Bird
21.06.2022 - 25.06.2022
till 31.12.2021
till 01.11.2021
I2TP15
Early Bird
Super Early Bird
02.08.2022 - 06.08.2022
till 31.12.2021
till 01.11.2021
I2TP19
Early Bird
Super Early Bird
30.08.2022 - 03.09.2022
till 31.12.2021
till 01.11.2021