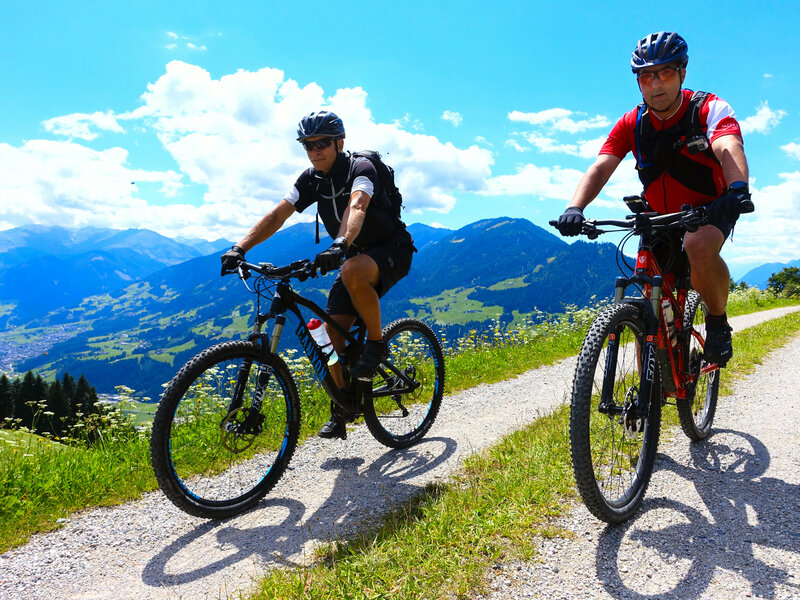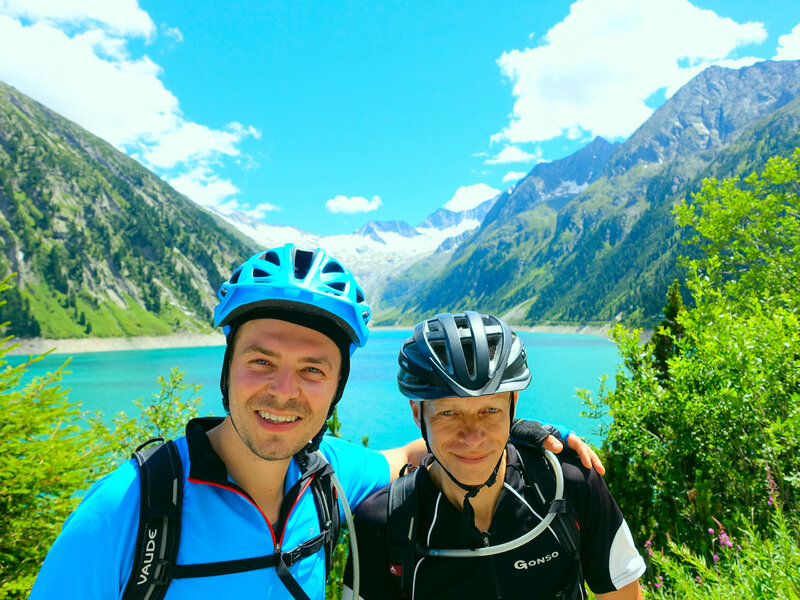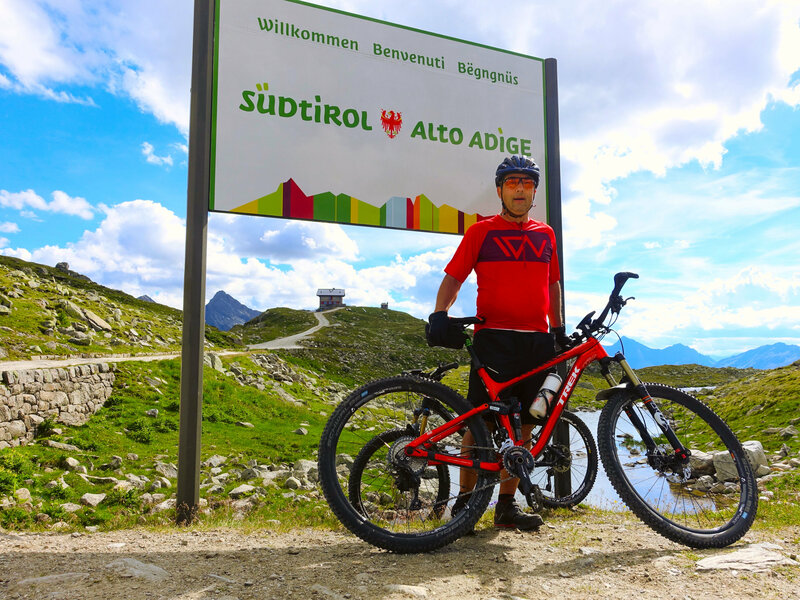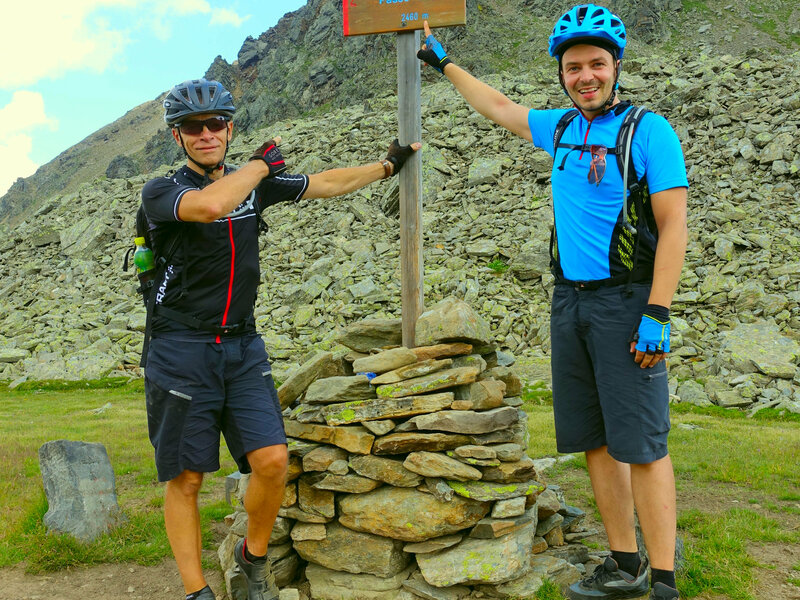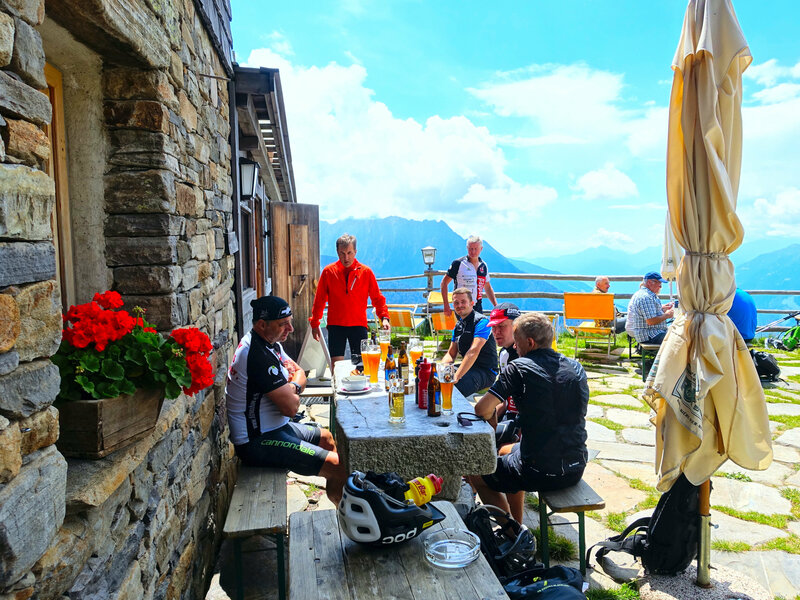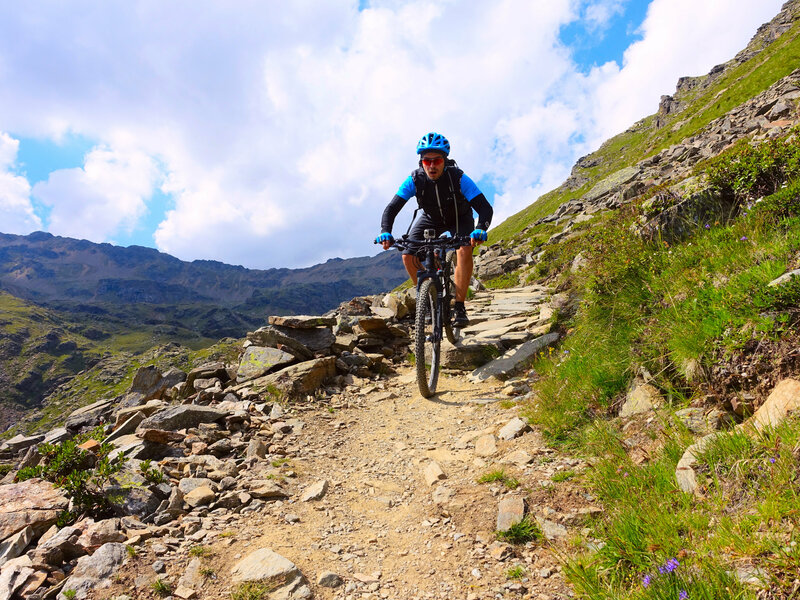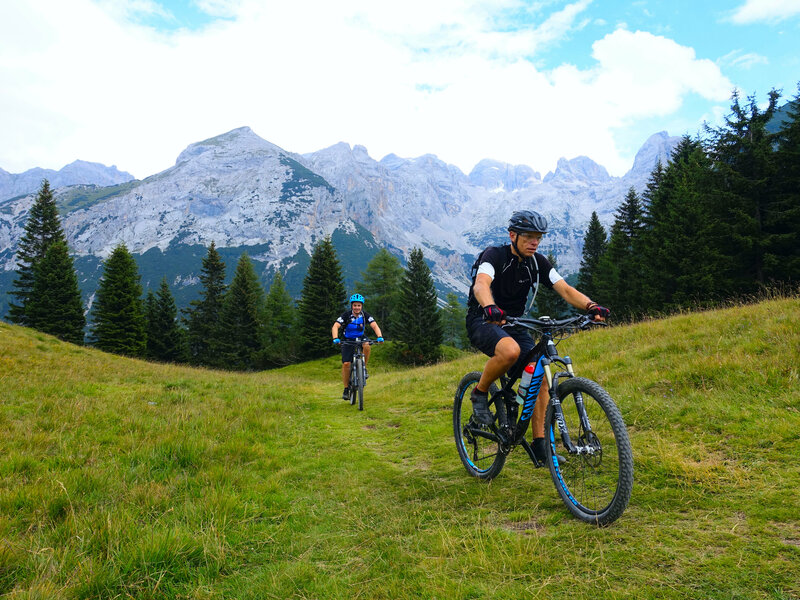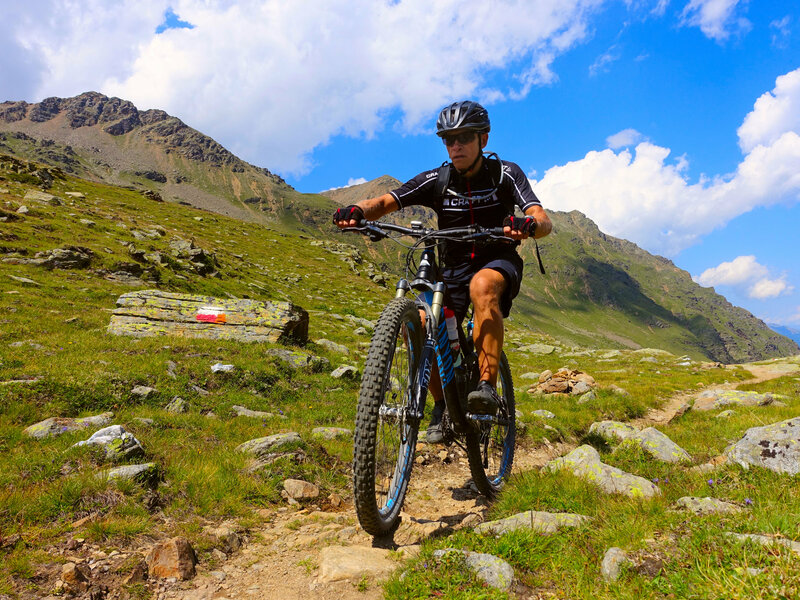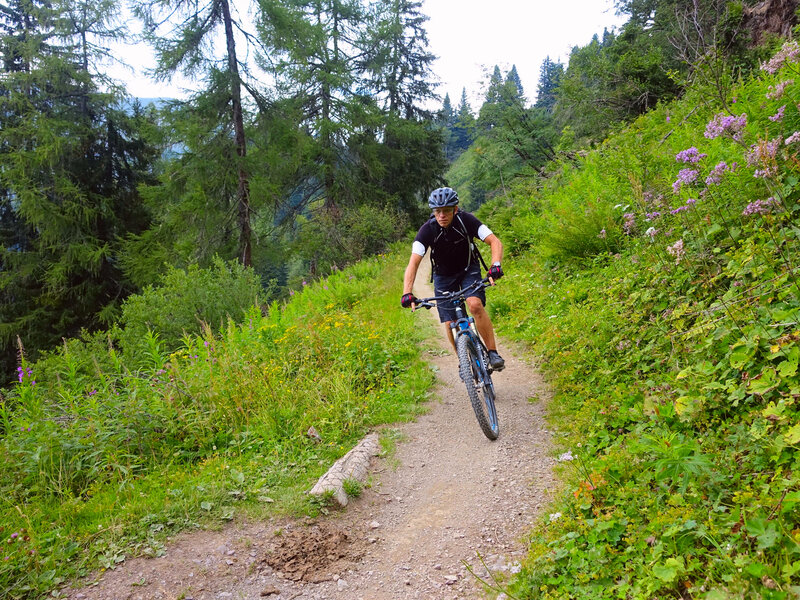 Lake Tegern - Lake Garda
Facts
This tour goes along beautiful forest paths from Tegernsee to Lake Garda. With its 9800 m ascent and about 393 kilometers this is a medium Transalp. One of our Transalp-Classics! Ausgestattet mit Kartenausschnitten, Roadbooks und Hinweisen auf touristische Highlights, radelt Ihr in Eigenregie über die Alpen. Wir übernehmen die Reiseorganisation. Zu Eurer eigenen Sicherheit könnt Ihr Euch ab zwei Personen zu einer individuellen Transalp anmelden.
Requirements
Except a few sections where you have to carry or push your bike, this tour is easy to ride. For the downhills a good driving technique and good bike control are necessary. A very good basic level of fitness is a precondition.
Highlights
For landscape lovers: Wonderful climb up to the Pfitscher Joch with a view to the border comb region, beautiful mountain huts in the South Tyrolean mountain world, within one's reach peaks of the Brenta Dolomites and the view of the Lake Garda. Cityscapes: The beautiful old city of Sterzing, ice-cream under palm trees in Merano, jet-set-people in Madonna di Campiglio.
Route
This tour leads from Tegernsee into the Inn Valley. Further we ride through the Zillertal and along the Pfitscher Joch over the main ridge of the Alps. From Sterzing we ride apart off the main road to Merano. From here into the beautiful Trentino and the Val di Sole to Madonna di Campiglio. From here to Passo Bregn de l'Ors and then the Lago di Garda is actually within reach.
The book about the journey
Selbstanreise nach Kreuth am Tegernsee, Check-In, Abendessen, Tourbesprechung.
Sunday
Etappe 1 - Von Kreuth nach Stumm: ca. 90 km; ca. 1800 hm
Ihr startet heute in Richtung Erzherzog-Johann-Klause und entlang der Brandenberger Ache gelangt ihr nach Brixlegg. Nach einem kurzen Stück entlang des Inns macht ihr einen kleinen Schlenker ins Alpbachtal und fahrt am Reither Kogel vorbei über eine Höhenstraße ins Zillertal. Die letzten Kilometer radelt ihr am Flussufer der Ziller entlang bis nach Stumm.
Monday
Etappe 2 - Von Stumm nach Sterzing: ca. 80 km; ca. 1800 hm
Bis Mayrhofen radelt ihr euch über den Zillertalradweg ein, bevor der Anstieg zum Pfitscher Joch beginnt - 1600 hm liegen vor euch! Ab Ginzling geht es vorwiegend auf Seitenstraßen zum Gasthof Breitlahner und von dort auf Schotter, Trails und Asphalt weiter bergauf zum Schleigeisspeicher. Die gewaltige Staumauer ist beeindruckend und schon von Weitem zu sehen. Dann nehmt ihr die letzten Kilometer zum Pfitscher Joch (2240 m) in Angriff. Teilweise fahrbar schlängelt sich der Pfad nach oben, bevor ihr den Alpenhauptkamm und die italienische Grenze überquert. Zeit für einen ersten italienischen Cappuccino. Die Panorama-Abfahrt in eines der schönsten Täler der Zentralalpen entschädigt für die Mühen bergauf.
Tuesday
Etappe 3 - Von Sterzing nach Meran: ca. 60 km; ca. 1500 hm
Auch heute liegen wieder über 1100 hm am Stück vor euch. Der Anstieg beginnt gleich hinter Sterzing – es geht hoch über den Jaufenpass. Diesen werdet ihr heute von seiner ruhigen und schönen Seite kennenlernen. Abseits von jeglicher Hektik könnt ihr hinter dem Pass mit einem fantastischen Blick ins Passeiertal und auf die Berge der Texelgruppe einkehren. Nach einer schönen Abfahrt nehmt ihr noch ein paar Gegenanstiege in Angriff, um die schönen Trails nach St. Martin im Passeiertal mitzunehmen. Ab dort folgt ihr der Passer bis nach Meran.
Wednesday
Etappe 4 - Von Meran nach Dimaro: ca. 80 km; ca. 2300 hm
Ein langer Tag liegt vor euch. Das heutige Ziel lautet Dimaro – dazwischen liegen allerdings wieder einige Höhenmeter. Bergauf geht es ins Ultental und ihr kommt über die Gampenalm ins Trentino. Dort könnt ihr euch den köstlichen Käse schmecken lassen. Über abenteuerliche Pfade gelangt ihr zum Lago di Santa Giustina. Von dort folgt ihr der Radroute nach Dimaro ins Val di Sole.
Thursday
Etappe 5 - Von Dimaro nach Lomaso: ca. 60 km; ca. 1800 hm
Auf dem Weg von Dimaro nach Madonna di Campiglio offenbaren sich euch schon erste Blicke in die Brenta. Nach einer Rast an einem kleinen See erwartet euch eine Schiebepassage zum Passo Bregn da l'Ors. Oben angekommen habt ihr dafür einen herrlichen Blick hinüber zu den Bergen der Adamello-Gruppe. Eben ein landschaftlicher Traumtag! Ab hier bringt euch ein flotter Downhill nach Ponte Arche. Ein kurzer Uphill und ihr erreicht Lomaso.
Friday
Etappe 6 - Von Lomaso an den Gardasee: ca. 25 km; ca. 600 hm
Auch wenn ihr den Gardasee schon fast erahnen könnt, den grandiosen Ausblick auf den Lago müsst ihr euch erst verdienen. Nach dem letzten steilen Aufstieg könnt ihr noch einmal die Ruhe genießen, bevor ihr euch in die Abfahrt Richtung Riva begebt. Ein Zwischenstopp im Rifugio San Pietro gehört allerdings dazu, der Blick von dort ist einzigartig. Doch die Vorfreude auf die bevorstehende Ankuft am See treibt euch schnell wieder in den Sattel. Endspurt! Den letzten Downhill zum See hinunter könnt ihr noch einmal in vollen Zügen genießen - danach kann ausgelassen gefeiert werden!
Nach dem Frühstück Rücktransfer nach Kreuth am Tegernsee.
Services, dates and prices
Arrival
Selbstanreise nach Kreuth am Tegernsee.
Services
7 x ÜF im DZ in guten und gepflegten Hotels/Pensionen, z.T. mit Sauna und Pool
4 x HP
Dates
I2TG12
Early Bird
Super Early Bird
09.07.2022 - 16.07.2022
till 31.12.2021
till 01.11.2021
I2TG15
Early Bird
Super Early Bird
30.07.2022 - 06.08.2022
till 31.12.2021
till 01.11.2021
I2TG18
Early Bird
Super Early Bird
20.08.2022 - 27.08.2022
till 31.12.2021
till 01.11.2021