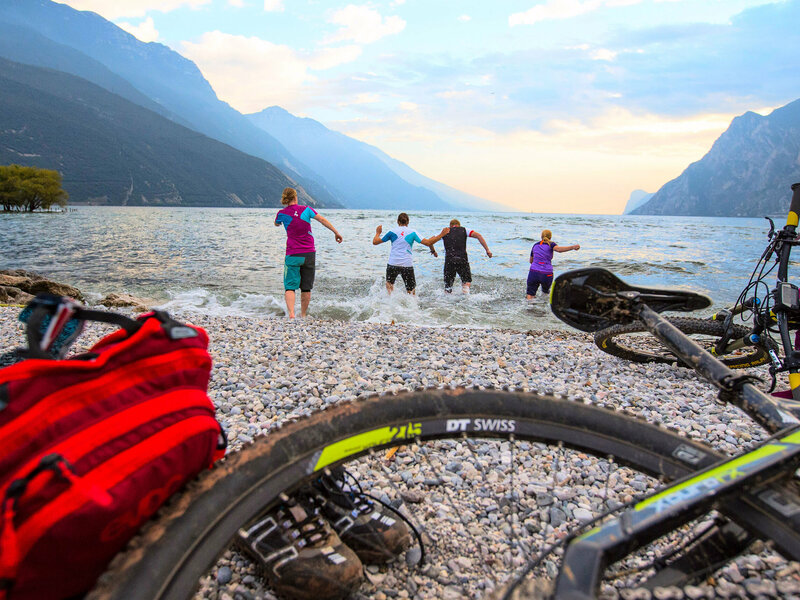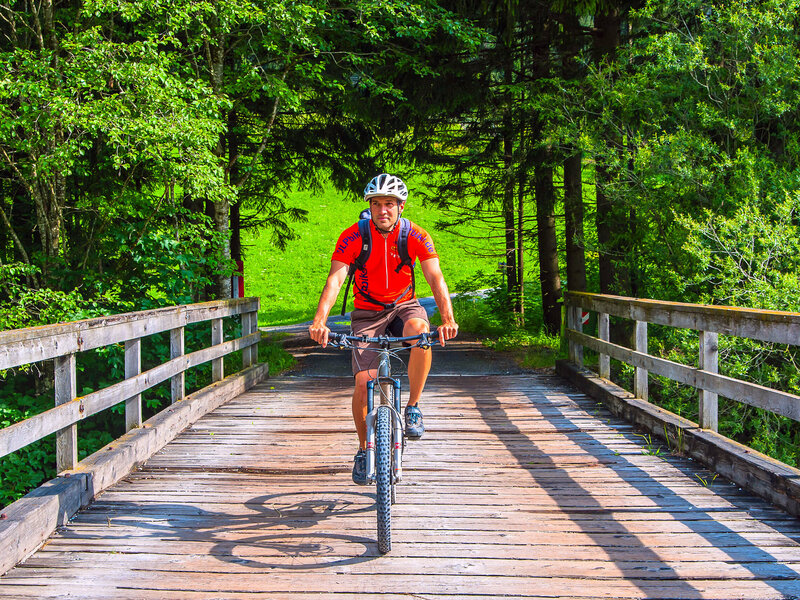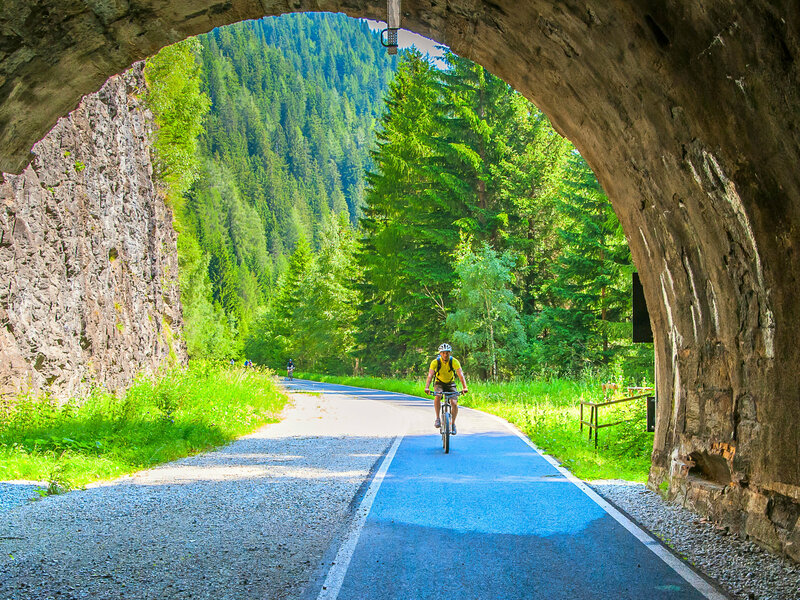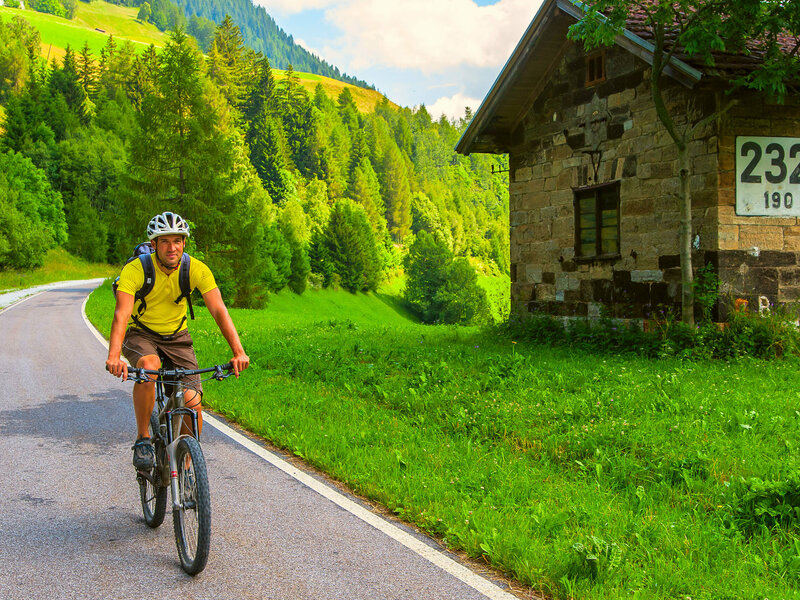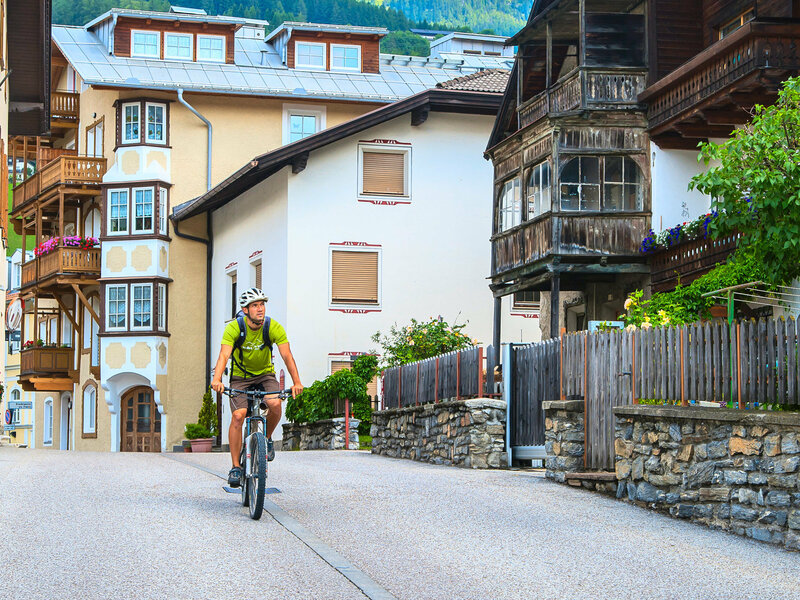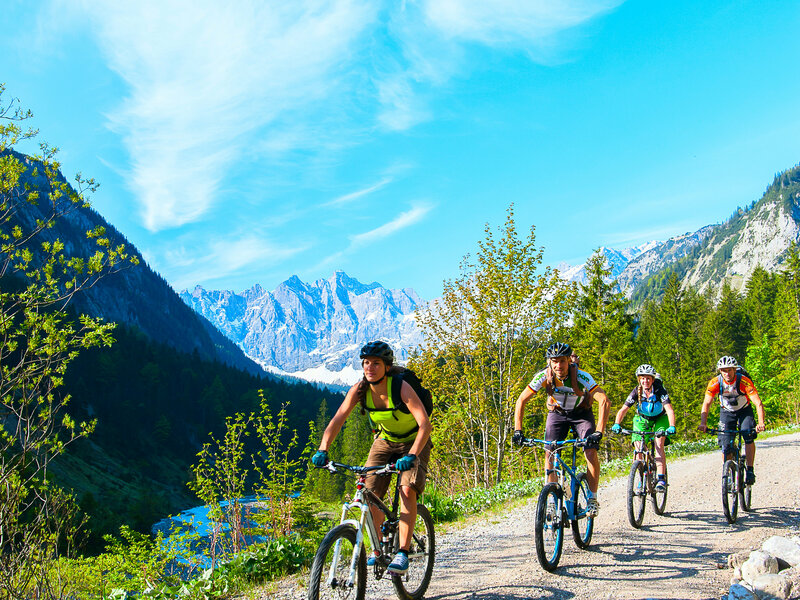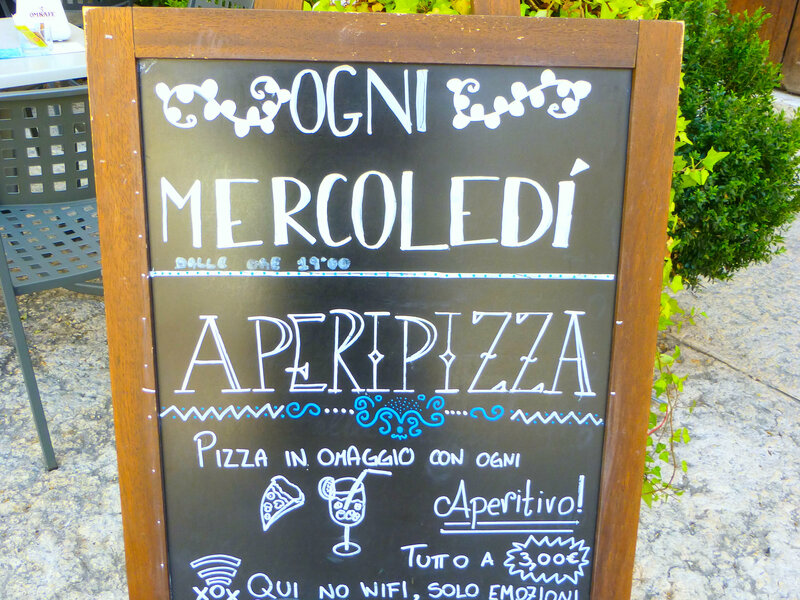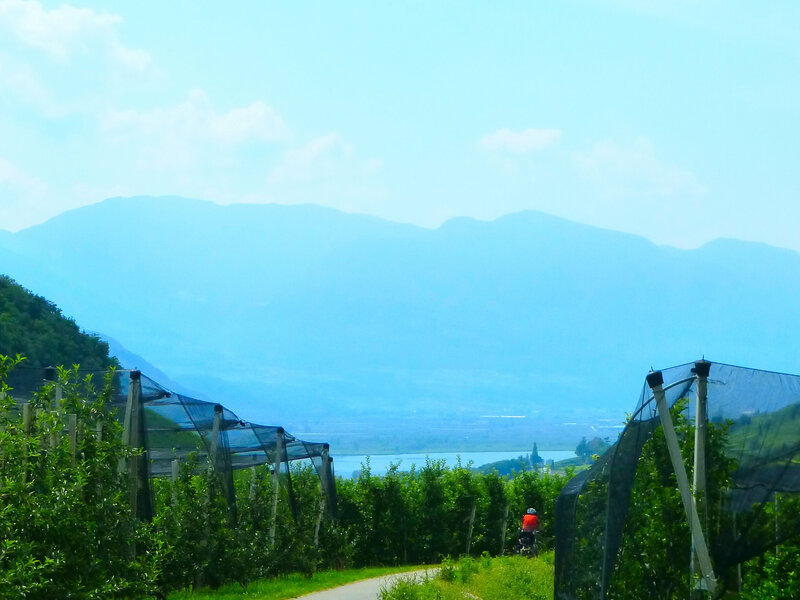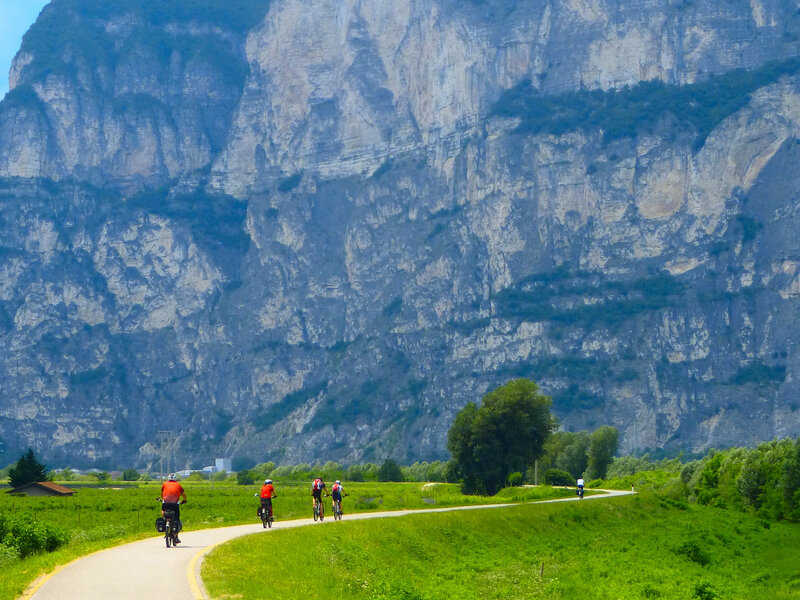 Tegernsee - Lake Garda
Facts
The tour leads from Garmisch past the Zugspitze and over the Fernpass into Austria, and later over the Reschenpass into South Tirol (Italy) into Vinschgau. This is a beautiful tour with panoramic views over the Alps for those wishing to invest less time than a whole week. Ausgestattet mit Kartenausschnitten, Roadbooks und Hinweisen auf touristische Highlights, radelt ihr in Eigenregie über die Alpen. Wir übernehmen die Reiseorganisation. Zu eurer eigenen Sicherheit könnt ihr euch ab zwei Personen zu einer individuellen Transalp anmelden.
Requirements
This is an ideal Transalp for beginners mainly on well established cycling routes. The stages are technically easy and therefore well suited for E-Bikers. A basic fitness for longer climbs is recommended.
Highlights
Our first highlight is the beautiful Achensee on the edge of the Karwendel mountains. The tour has a lot of cultural offerings: Hall, Sterzing, Brixen, Tramin, Bolzano, Trento, Kalterer See, the Schlernmassiv and the Dolomites are an impressive scenery. For culinary delights: Bacon, cheese, Schlutzkrapfen, antipasti, pizza, tiramisu and cappuccino...
Route
From Kreuth we cross the Achenpass and the Achensee to Schwaz and from there further over the Brenner Pass into the Eisack Valley. On the way to Bolzano we touch Sterzing and Brixen, Tramin and the Kalterer See. Further we ride over Trento, Monte Bondone and Lago di Cavedine to Lake Garda.
The book about the journey
Selbstanreise an den Tegernsee, Check-In, Abendessen.
Monday
Etappe 1 - Vom Tegernsee nach Schwaz: ca. 70 km; ca. 500 hm
Eure Reise startet am Tegernsee und führt euch durch schöne Wälder über den Achenpass zum ersten Highlight der Tour, dem Achensee. An diesem bietet sich eine Rast an, um die Akkus zu füllen und bei einer Mittagsjause den Blick auf den türkis schimmernden Achensee zu genießen. Das ist Urlaub! Wenn ihr den Achensee hinter euch gelassen habt geht es rasch runter ins Inntal wo ihr auf dem Inntalradweg gemütlich eurem Etappenziel, der Silberstadt Schwaz, entgegen rollt.
Tuesday
Etappe 2 - Von Schwaz nach Sterzing: ca. 85 km; ca. 1000 hm
Richtung Innsbruck radelt ihr zum historischen Städchen Hall, welches zu einem Besuch einlädt, bevor es auf der alten Römerstraße stetig ansteigend Richtung Steinach am Brenner geht. Habt ihr die ersten beschwerlicheren Höhenmeter hinter euch gelassen, lohnt es sich, bei einer Mittagspause die Akkus zu laden und die Schmankerl Tirols zu genießen. Hügelig geht es stetig bergauf bis ihr den Brennerpass erreicht habt. Ihr seid in Italien! Abseits der Transitroute geht es auf einer alten Bahnstrecke mit Tunneln und atemberaubenden Ausblicken sanft bergab nach Sterzing. Sterzing erwartet euch mit seiner trubeligen Schönheit.
Wednesday
Etappe 3 - Von Sterzing nach Bozen: ca. 75 km; ca. 400 hm
Auf der heutigen Etappe lasst ihr es mit ca. 400 Höhenmetern ganz entspannt auf dem Eisacktalradweg angehen. Dafür stehen kulturelle Highlights auf dem Programm! Leicht bergab und mit kurzen Gegenanstiegen radelt ihr zur imposanten Franzensfeste, die damals die Verkehrsverbindung zwischen oberem Wipptal und Brenner sicherte. Wellig geht es weiter nach Brixen, mit Sicherheit einer der schönsten Städte Südtirols! Gestärkt mit einem italienischen Cappuccino rollt ihr auf einer alten Bahntrasse vorbei am Schlernmassiv und mit Dolomitenpanorama in die Hauptstadt Südtirols mit historischen Laubengängen und zahlreichen kulturellen Highlights.
Thursday
Etappe 4 - Von Bozen nach Trento: ca. 75 km; ca. 450 hm
Vorbei an der Burg Sigmundskron gelangt ihr auf der alten Bahnstrecke nach Kaltern. Am Kalterer See entlang radelt ihr durch nicht enden wollende Weingärten weiter Richtung Trento. Ihr folgt immer weiter dem Etschtalradweg bis ihr Trento erreicht. Auf diesem lohnt es sich besonders, den Blick auf die umliegenden Berge schweifen zu lassen und die Vielseitigkeit der Vegetationen der Alpen zu bestaunen. Die Kulturstadt Trento empfängt euch mit seiner wunderschönen Altstadt die zum Bummeln und Schlemmen einlädt.
Friday
Etappe 5 - Von Trento an den Gardasee: ca. 55 km; ca. 850 hm
Von Trento aus geht ihr den letzten Anstieg nach Candriari an. Oben angekommen könnt ihr euch bei einer der vielen italienischen Köstlichkeiten erholen. Jetzt trennt euch nur noch eine rasante Abfahrt ins Sarca-Tal von eurem lang ersehnten Ziel. Durch die beeindruckende Steinwüste Marocche di Dro geht es auf gut ausgebauten Radwegen bis zum Ufer des Gardasees. Es kann gefeiert werden!
Nach dem Frühstück Rücktransfer an den Tegernsee.
Services, dates and prices
Arrival
Selbstanreise nach Kreuth.
Services
6 x ÜF im DZ in guten und gepflegten Hotels/Pensionen, z.T. mit Sauna und Pool
5 x HP
Gepäcktransport
Begleitfahrzeug
Buch mit Tourenbeschreibung und GPS-Tracks
Kurzeinweisung durch ULPbike Guide am Anreisetag
Handynummer eines ULPbike Guides
Rücktransfer
Dates
I0TG19
Early Bird
Super Early Bird
28.08.2022 - 03.09.2022
till 31.12.2021
till 01.11.2021