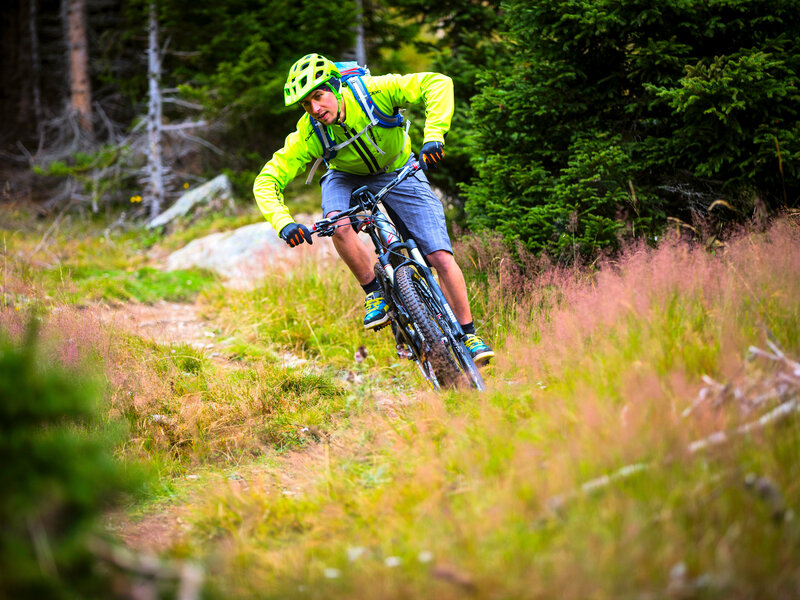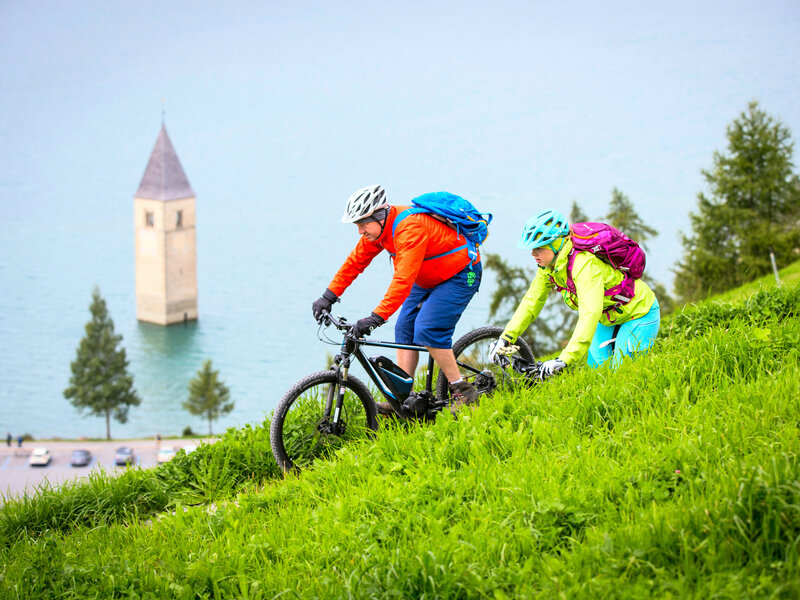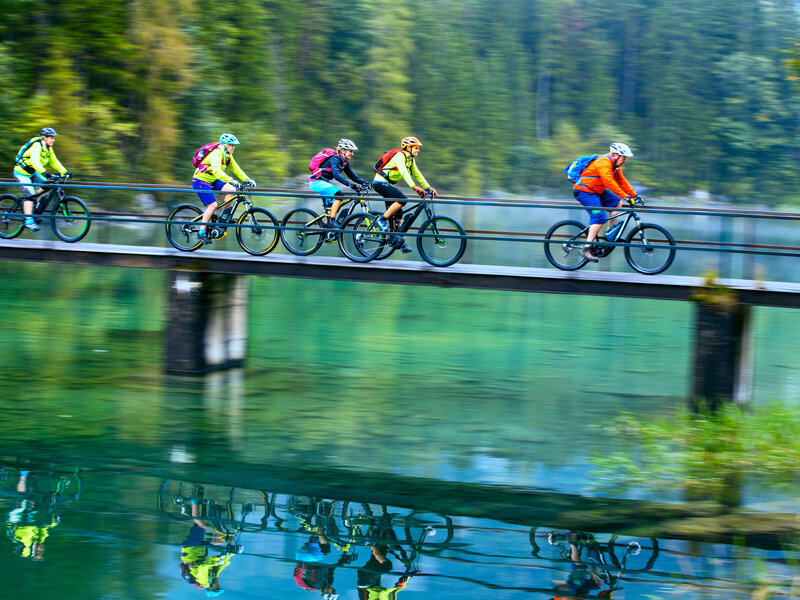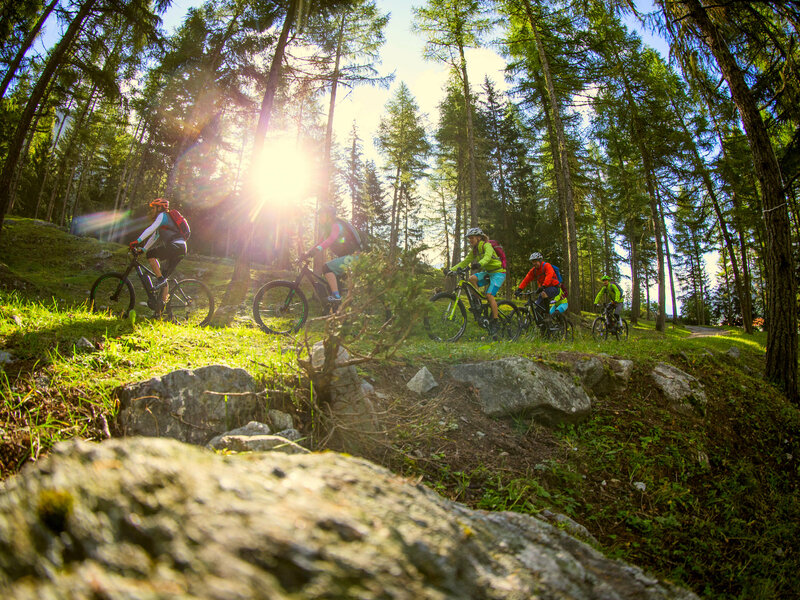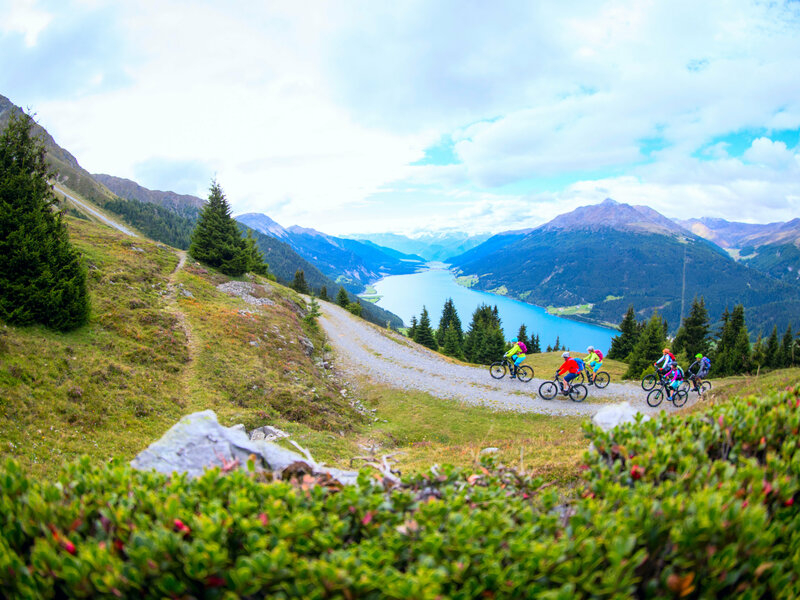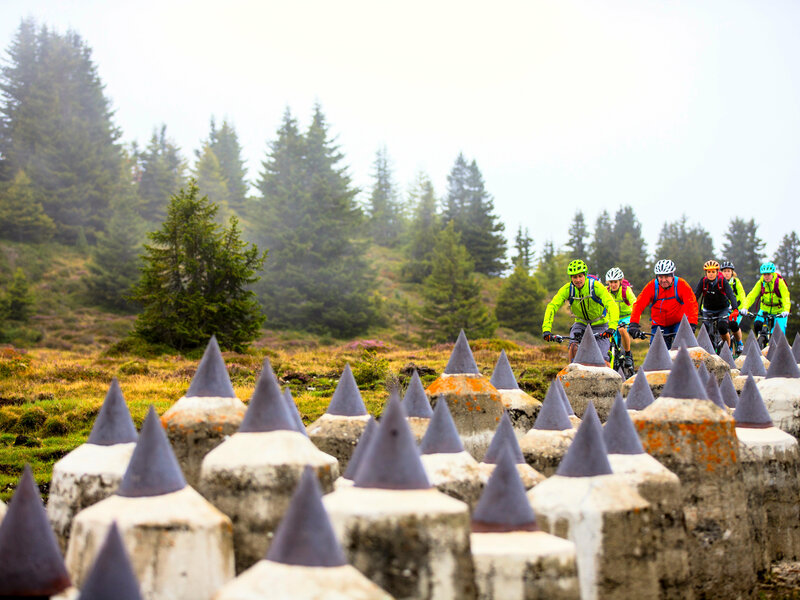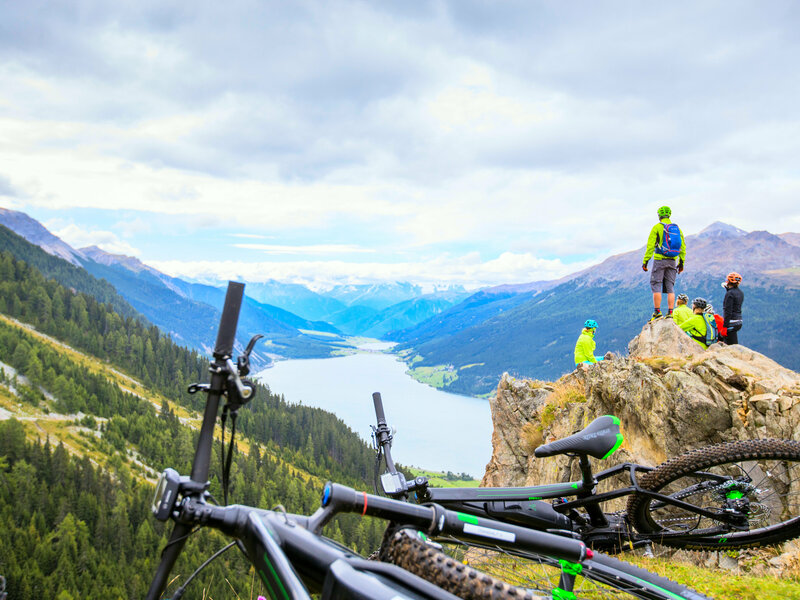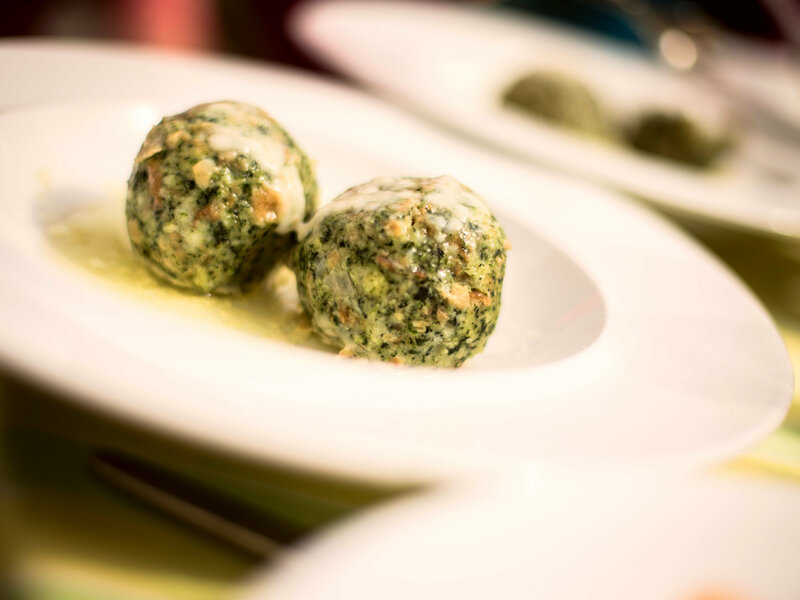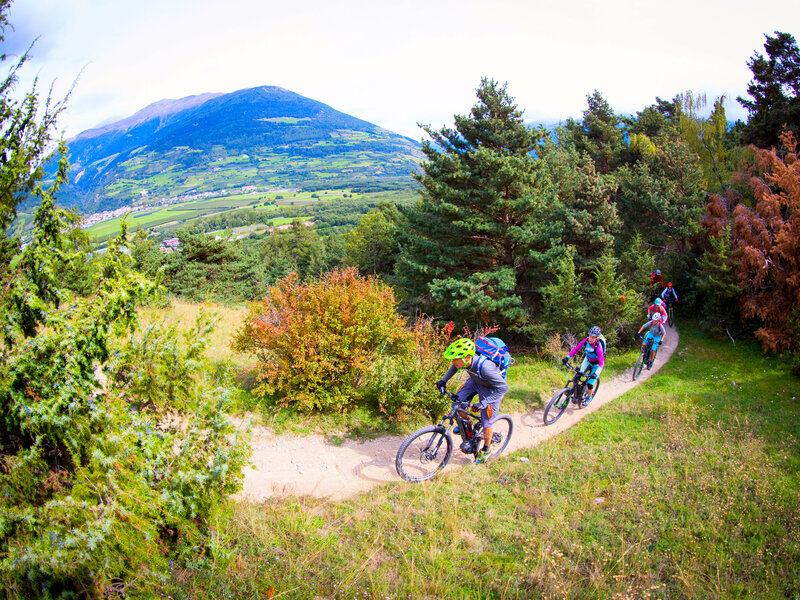 Garmisch - Merano
Facts
The tour leads from Garmisch over the Fernpass into the Inn Valley. Further over the Reschenpass into the Vinschgau Valley. Through several trails of the Vinschgau Valley to Merano. An ideal tour to enjoy the e-flow.
Requirements
This tour includes the best single trails between Garmisch and Merano. A basic fitness for longer climbs and technical basics should be present. The single trails are categorized as S1 and S2 (scale of single trails) for uphill and downhill.
Highlights
For landscape lovers: Zugspitzmassif, Eibsee, Inn Valley, Reschenpass, view of the magnificent Ortler, the apple orchards of the Vinschgau Valley and views of the Texel mountains. For culture lovers: The romantic castle Fernstein, the medieval town of Glurns and the mediterranean spa town of Merano. For culinary delights: Bacon, cheese, Schlutzkrapfen, antipasti, pizza, tiramisu and cappuccino...
Route
From Garmisch we start our tour along the Eibsee and then on a panoramic mountain highway to Ehrwald. Past the Weissensee we cycle to the Fernpass, enjoy the descent to the little village Nassereith and further along Imst through the Inn Valley to Nauders. On the Plamort we cross the Italian border, bike a few flow trails in the Vinschgau Valley and already are in Merano.
The book about the journey
17 Uhr Treffen in Grainau bei Garmisch zum Kennenlernen, zum Bike-Check, zur Anpassung der Mietbikes und zum Abendessen. Besprechung der Gesamttour anhand von Karten.
Thursday
Etappe 1 - Von Grainau nach Imst: ca. 55 km; ca. 1500 hm
Von Grainau starten wir entlang des Eibsees in Richtung Hochthörle Hütte. Hier dürfen wir uns auf unsere erste Abfahrt freuen: Über Single Trails und Speed-Asphalt geht's runter in das österreichische Städtchen Ehrwald. Nach der Mittagspause kurbeln wir in einem schönen Auf und Ab über den Panoramaweg oberhalb von Biberwier zum Weißensee und über den Fernpass zum Schloss Fernsteinsee. Anschließend fahren wir entlang des alten Römerweges Via Claudia Augusta nach Imst.
Friday
Etappe 2 - Von Imst nach Nauders: ca. 70 km; ca. 1500 hm
Von Imst fahren wir über den Jakobsweg trailig nach Landeck. Nach einer kurzen Schiebestrecke kommen die Trails auf der Fließer Platte. Ab Prutz bleiben wir meist auf dem Radweg und machen bei Pfunds Rast auch um die Akkus zu laden. Der Anstieg ins Trailgebiet von Nauders hat es nochmal in sich und wir werden hier unseren Akku ziemlich leer fahren. Nach Nauders runter erwartet uns ein etwas ruppiger aber total spaßiger Single Trail zum Abschluss dieser Tagesetappe.
Saturday
Etappe 3 - Von Nauders nach Meran: ca. 100 km; ca. 1400 hm
Heute jagt ein Highlight das nächste: Zuerst schrauben wir uns 700 Höhenmeter über den Reschenpass auf die Plamorter Hochebene hinauf, und gelangen auf wunderschönen Trails zu den Panzersperren. Dort warten gigantische Fernblicke hinunter ins Vinschgau, Richtung Ortler und natürlich auf den Reschensee auf uns. Über einen gut fahrbaren Forstweg und dann flowige Trails rollen wir hinab zum Reschensee und machen uns auf den Weg nach Italien. In der malerischen Altstadt von Glurns genießen wir einen ersten italienischen Cappuccino und können dabei unsere Akkus laden. Danach nehmen wir die Trails des Vinschgau in Angriff. Immer wieder verlassen wir den Etschtal Radweg um den ein oder anderen Trail zu fahren. Am Ende geht es speedig bergab nach Meran.
Sunday
Nach dem Frühstück Rücktransfer nach Grainau bei Garmisch.
Services, dates and prices
Arrival
Selbstanreise nach Grainau.
Services
4 x ÜF im DZ in guten und gepflegten Hotels/Pensionen, z.T. mit Sauna und Pool
3 x HP
Tourenführung (Guide)
Gepäcktransport
Begleitfahrzeug
Rücktransfer
Online Bilderservice
Dates
E1GM11
Early Bird
Super Early Bird
06.07.2022 - 10.07.2022
till 31.12.2021
till 31.10.2021