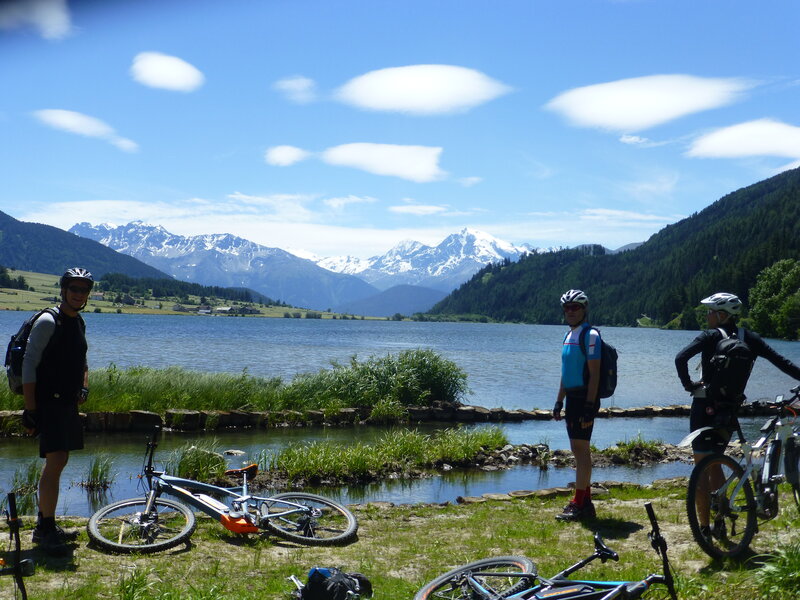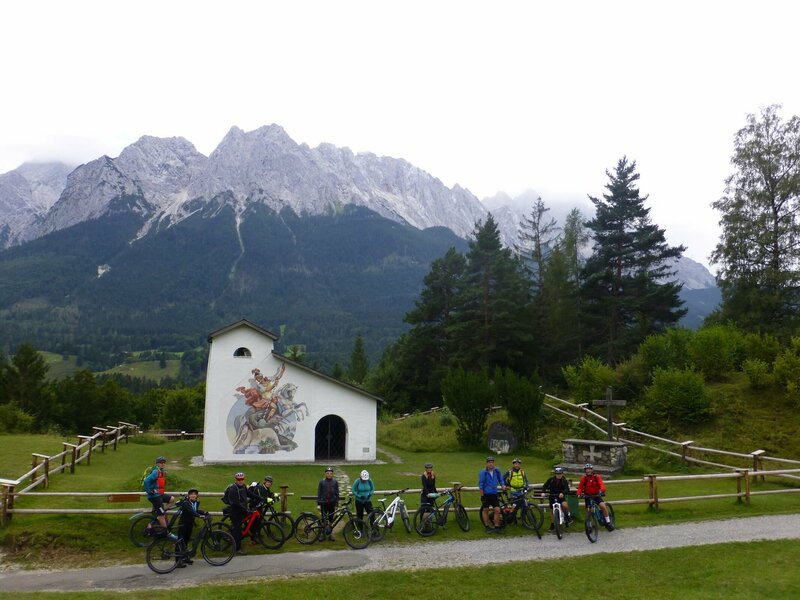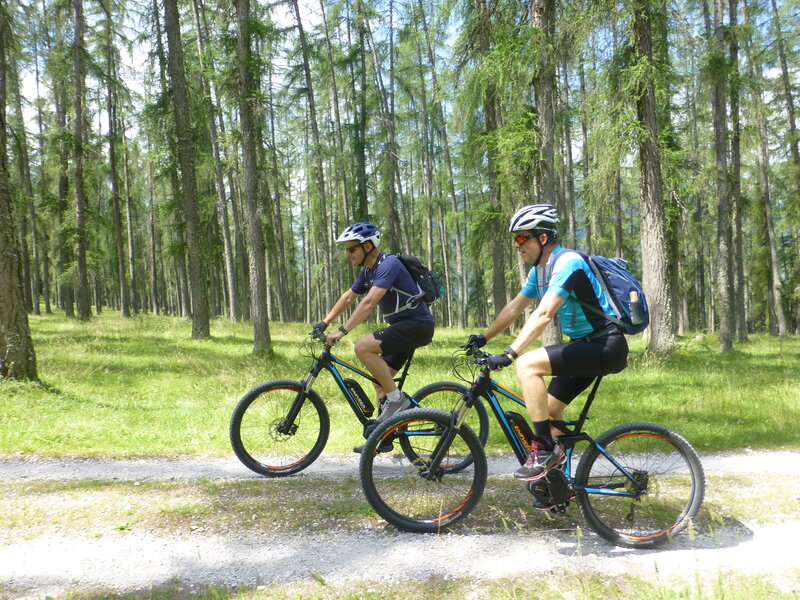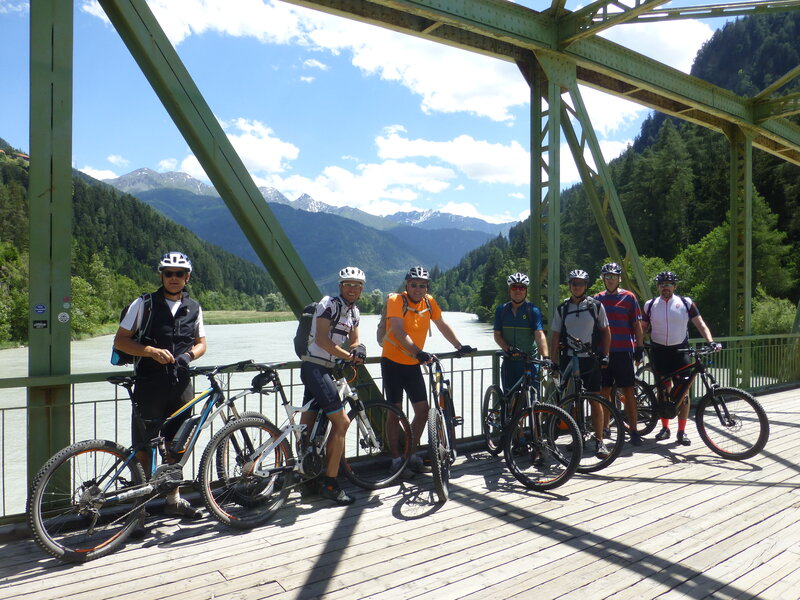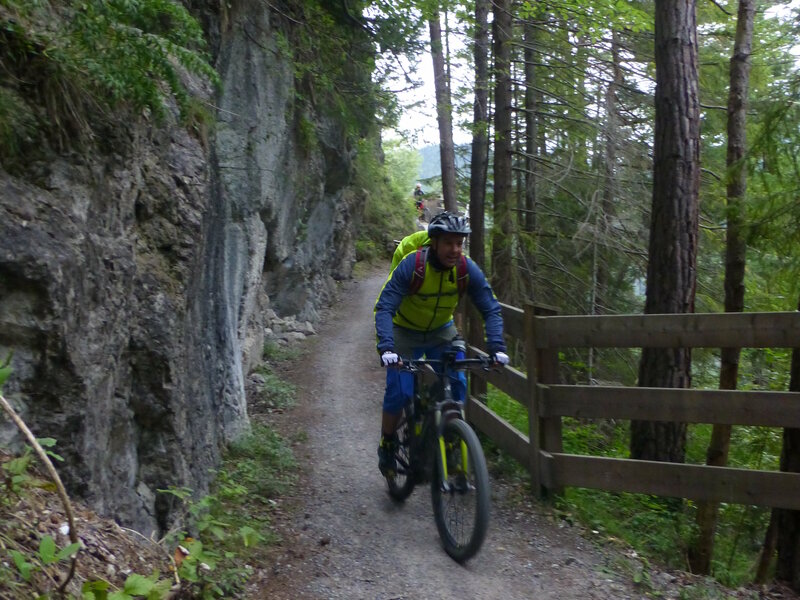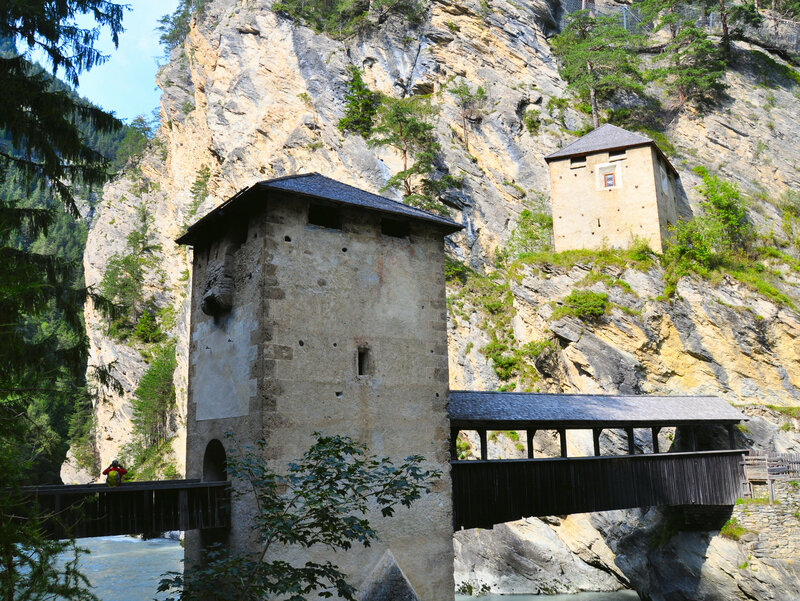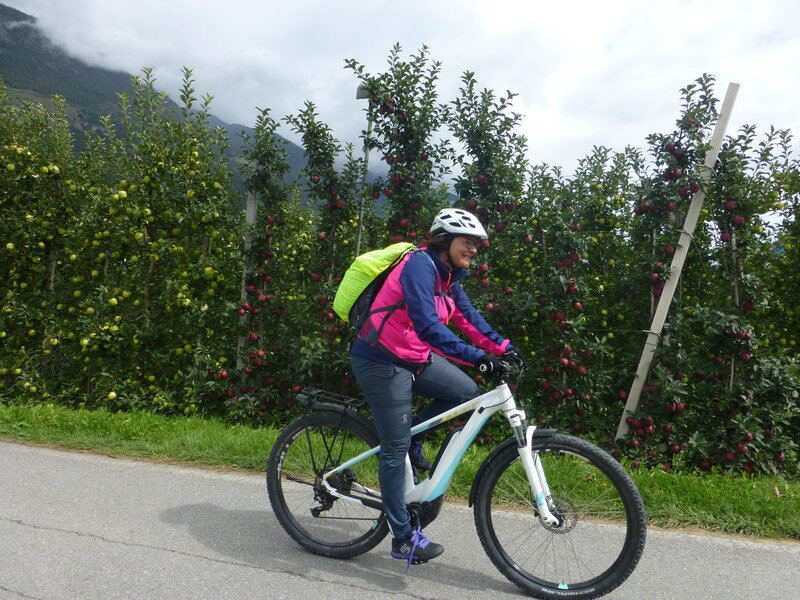 Garmisch - Merano
Facts
The tour leads from Garmisch past the Zugspitze and over the Fernpass into Austria, and later over the Reschenpass into South Tirol (Italy) into Vinschgau. This is a beautiful tour with panoramic views over the Alps for those wishing to invest less time than a whole week.
Requirements
This tour is ideal for beginners mainly on well established cycling routes. The stages are technically easy and therefore well suited for E-Bikers. A basic fitness for longer climbs is recommended.
Highlights
For landscape lovers: Zugspitzmassif, Eibsee, Inn Valley, Reschenpass, view of the magnificent Ortler, the apple orchards of the Vinschgau Valley and so on.. For culture lovers: The romantic castle Fernstein, the medieval town of Glurns and the Mediterranean spa town of Merano. For culinary delights: Bacon, cheese, Schlutzkrapfen, antipasti, pizza, tiramisu and cappuccino...
Route
From Garmisch we start our tour along the Eibsee and then on a panoramic mountain highway to Ehrwald. Past the Weißensee we cycle to the Fernpass, enjoy the descent to the little village Nassereith and further along Imst through the Inn Valley to Nauders. On the ancient roman way Via Claudia Augusta we ride along the Reschenpass and through Glurns in the South Tyrolean Etsch Valley to Merano.
The book about the journey
17 Uhr Treffen zum gemeinsamen Abendessen in Grainau bei Garmisch. Kennenlernen, Bike-Check, Besprechung der Gesamttour anhand von Karten.
Thursday
Etappe 1 - Von Grainau nach Imst: ca. 50 km; ca. 850 hm
Von Grainau starten wir entlang der Loisach nach Ehrwald. Wir radeln weiter über den Lärchen- und Panoramaweg zum Weißensee und hoch zum Fernpass. Auf dem alten Römerweg Via Claudia geht es nach Nassereith und von dort auf schönen Radwanderwegen mit traumhaftem Panorama bis nach Imst.
Friday
Etappe 2 - Von Imst nach Nauders: ca. 80 km; ca. 1100 hm
Von Imst fahren wir über den Inntalradweg über Mils, Schönwies und Zams, später über Prutz, Ried (hier gibt es einen herrlichen Badesee), Tösens und Pfunds nach Nauders. Kurz hinter Pfunds fahren wir über den Inn, vorbei an der Kajetansbrücke und weiter durch Schweizer Grenzgebiet. Unsere letzte Hürde ist die Norbertshöhe. Von hier hat man einen traumhaften Blick nach Österreich auf der einen Seite und in die Schweiz auf der anderen Seite.
Saturday
Etappe 3 - Von Nauders nach Meran: ca. 100 km; ca. 300 hm
Von Nauders kurbeln wir über den Reschenpass ins Vinschgau. Wir sind in Italien! Unser Weg führt vorbei am versunkenen Turm im Reschensee bis ins mittelalterliche Städchen Glurns. Hier machen wir eine Rast mit Sonne, Cappuccino und einem leckeren Eisbecher. Weiter geht's entlang der Etsch vorbei an Reinhold Messners Schloss Juval hoch über Naturns und durch die endlosen Obstplantagen Richtung Meran. In Meran feiern wir unsere geschaffte Transalp mit echter italienischer Pizza!
Nach dem Frühstück Rücktransfer nach Grainau bei Garmisch.
Services, dates and prices
Arrival
Selbstanreise nach Grainau.
Services
4 x ÜF im DZ in guten und gepflegten Hotels/Pensionen, z.T. mit Sauna und Pool
3 x HP
Tourenführung (Guide)
Gepäcktransport
Begleitfahrzeug
Rücktransfer
Online Bilderservice
Dates
E0GM6
Early Bird
Super Early Bird
01.06.2022 - 05.06.2022
till 31.12.2021
till 01.11.2021
E0GM8
Early Bird
Super Early Bird
15.06.2022 - 19.06.2022
till 31.12.2021
till 01.11.2021
E0GM13
Early Bird
Super Early Bird
20.07.2022 - 24.07.2022
till 31.12.2021
till 01.11.2021
E0GM19
Early Bird
Super Early Bird
31.08.2022 - 04.09.2022
till 31.12.2021
till 01.11.2021