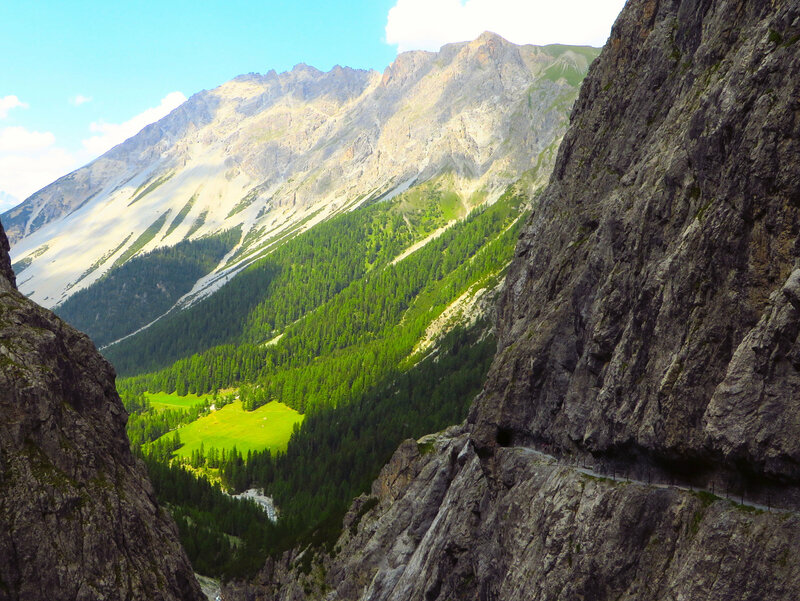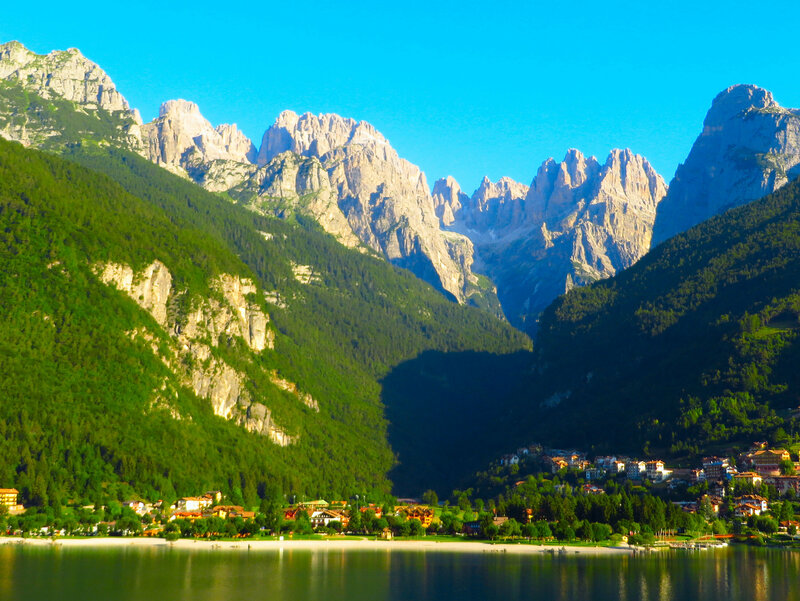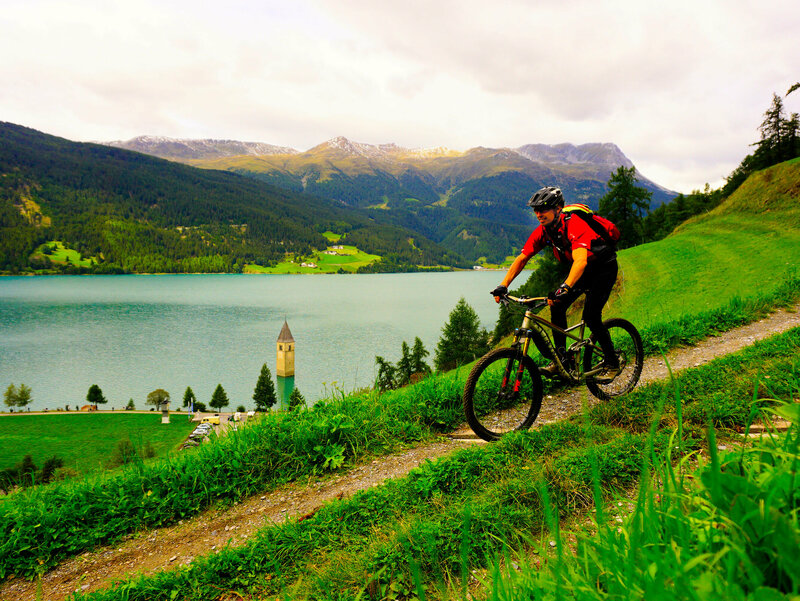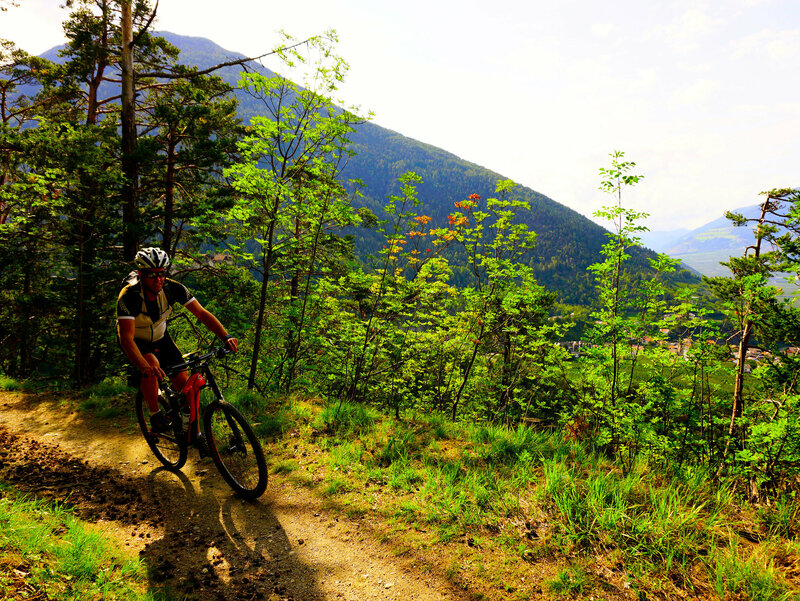 Garmisch - Lake Garda
Facts
The tour leads from Garmisch over the Reschenpass through the Vinschgau Valley and over the Gampenpass, further east along the Brenta-Dolomites to Lake Garda. With its 8900 m ascent and about 400 kilometers in 5 stages this tour is a medium Transalp with many highlights. Ausgestattet mit Kartenausschnitten, Roadbooks und Hinweisen auf touristische Highlights, radelt Ihr in Eigenregie über die Alpen. Wir übernehmen die Reiseorganisation. Zu Eurer eigenen Sicherheit könnt Ihr Euch ab zwei Personen zu einer individuellen Transalp anmelden.
Requirements
The trails are mostly easy passable – but you have to be prepared for some parts where you have to hop off your bike. A very good fitness level, essential basics of driving technique as well as the necessary condition to sit 5 days in a row in the saddle are fundamental prerequisites for this tour.
Highlights
For landscape lovers: Zugspitzmassif, Reschenpass, panorama of the Ortler group, the apple orchards of the Vinschgau Valley, great views of The Dolomites on the way to the Gampenpass and finally magnificent views to the Brenta-Dolomites and the Lago di Garda appear as a mega slideshow - but even better: it's all live!
Route
From Garmisch we start our tour in the shadow of the Zugspitze along the the Eibsee to Ehrwald and over the Marienbergjoch to Nassereith and Imst in the Inn Valley. Along the old pilgrims' path and the Fliesser Platte we get to the Upper Inn Valley and further to Nauders. Above the Reschenpass we cycle along a panorama trail on historical grounds over the Italian border, then along the Reschensee to Glurns and through the fruit plantations and hidden singletrails to Merano. We cross the Gampenpass to Coredo and follow the way at the foot of the Brenta-Dolomites on spectacular trails further towards Lake Garda. A great downhill finally leads us to the shore of the lake, directly in the port of Riva del Garda.
The book about the journey
Selbstanreise nach Grainau bei Garmisch, Check-In, Abendessen.
Monday
Etappe 1 - Von Grainau nach Tarrenz: ca. 60 km; ca. 1950 hm
Von Grainau startet ihr zum malerisch gelegenen Eibsee am Fuße der Zugspitze. Es geht weiter aufwärts zur Hochthörlehütte nach Tirol. Tolle Trails und Speed-Asphalt führen nach Ehrwald. In einem schönen Auf und Ab fahrt ihr auf dem Panoramaweg nach Biberwier und über das Marienbergjoch weiter nach Nassereith. Ein toller Singletrail zum Abschluss der Abfahrt macht Lust auf mehr! Auf den Spuren der alten Römerstraße Via Claudia Augusta rollt ihr schließlich ins Gurgltal bei Tarrenz.
Tuesday
Etappe 2 - Von Tarrenz nach Nauders: ca. 85 km; ca. 1900 hm
Wir folgen dem Tiroler Jakobsweg zur sehr schön gelegenen Kronburg. Von hier bringt euch ein lässiger Trail nach Landeck. Nach dem Anstieg zur Fließer Platte geht es auf flowigen Trails mit schönem Panorama zurück ins Inntal. Entlang des Transalp-Klassikers Via Claudia fahrt ihr bis zur schweizer Grenze. Eine kernige Auffahrt führt euch zum Tagesabschluss an einen wunderschönen Moorsee, der Trail-Downhill nach Nauders ist absolute Spitzenklasse, hier können wir "Flow-Garantie" geben!
Wednesday
Etappe 3 - Von Nauders nach Meran: ca. 120 km; ca. 1400 hm
Bei optimalen Bedingungen solltet ihr euch die Gelegenheit nicht entgehen lassen den Umweg über die Uina-Schlucht und die Sesvenna-Hochebene zu machen. Bei weniger guten Bedingungen wartet folgende Tour auf euch: Zuerst schraubt ihr euch 800 Höhenmeter hinauf zum Plamorter Boden, um eine gigantischen Aussicht auf den Ortler und Reschenpass genießen zu können. Es folgt ein super Downhill auf den neuen Drei-Länder-Trails zum Reschensee, der erste italienische Cappuccino im mittelalterlichen Glurns und schließlich feinste Singletrails abseits der Apfelplantagen durch das obere Vinschgau. Das mediterrane Meran erwartet euch am Schluss mit einem leckerem italienischen Eis!
Thursday
Etappe 4 - Von Meran nach Coredo: ca. 55 km; ca. 1800 hm
Von Meran aus fahrt ihr entlang der Obstplantagen Richtung Bozen. Auf dem alten Mühlenweg geht es auf Wald- und Schotterwegen hinauf zum Gampenpass. Über eine schöne Forststrßenabfahrt kommt ihr an spektakulären Schluchten und herrlichen Wasserfällen vorbei ins Val di Non. Ein weiteres Highlight dieser Etappe ist der Trail in ein kleines abgelegenes Einsiedlertal. Es folgt ein kurzer Anstieg zu zwei schön gelegenen Seen nahe Coredo. Das schön gelegene Wellness-Hotel mit Brenta-Panoramablick bietet neben der erstklassigen italienischen Küche am Abend zahlreiche Wellnessangebote. Damit sind wir bestens vorbereitet für die finale Etappe am Freitag!
Friday
Etappe 5 - Von Coredo zum Gardasee: ca. 95 km; 1900 hm
Zum Abschluss zaubern wir noch eine Feinschmecker-Etappe aus Ärmel. Sie führt auf tollen Trails vorbei an den traumhaften Brentadolomiten. Oberhalb des Lago di Molveno scheinen die Brenta-Gipfel zum Greifen nahe. Von Ponte Arche geht es noch einmal moderat ansteigend zum Passo Ballino und zum karibisch-blauen Tenno-See. Ein letzter kurzer Uphill und dann auf einem schönen, gut fahrbaren Trail mehr oder weniger direkt an den See. Der Ausblick auf den Lago di Garda ist sagenhaft. Nur noch wenige Meter trennen uns vom Sprung ins kühle Nass!
Nach dem Frühstück Rücktransfer nach Grainau bei Garmisch.
Services, dates and prices
Arrival
Selbstanreise nach Grainau bei Garmisch.
Services
6 x ÜF im DZ in guten und gepflegten Hotels/Pensionen, z.T. mit Sauna und Pool
4 x HP
Gepäcktransport
Begleitfahrzeug
Buch mit Tourenbeschreibung und GPS-Tracks
Kurzeinweisung durch ULPbike Guide am Anreisetag
Handynummer eines ULPbike Guides
Rücktransfer
More Information
Die Tour ist im Baukastensystem aufgebaut. Wechseln zwischen Basisroute (light) und zahlreichen Varianten (medium) ist individuell möglich!
Dates
I2GG8
Early Bird
Super Early Bird
12.06.2022 - 18.06.2021
till 31.12.2021
till 01.11.2021
I2GG9
Early Bird
Super Early Bird
19.06.2022 - 25.06.2022
till 31.12.2021
till 01.11.2021
I2GG10
Early Bird
Super Early Bird
26.06.2022 - 02.07.2022
till 31.12.2021
till 01.11.2021
I2GG11
Early Bird
Super Early Bird
03.07.2022 - 09.07.2022
till 31.12.2021
till 01.11.2021
I2GG13
Early Bird
Super Early Bird
17.07.2022 - 23.07.2022
till 31.12.2021
till 01.11.2021
I2GG14
Early Bird
Super Early Bird
24.07.2022 - 30.07.2022
till 31.12.2021
till 01.11.2021
I2GG15
Early Bird
Super Early Bird
31.07.2022 - 06.08.2022
till 31.12.2021
till 01.11.2021
I2GG16
Early Bird
Super Early Bird
07.08.2022 - 13.08.2022
till 31.12.2021
till 01.11.2021
I2GG18
Early Bird
Super Early Bird
21.08.2022 - 27.08.2022
till 31.12.2021
till 01.11.2021
I2GG19
Early Bird
Super Early Bird
28.08.2022 - 03.09.2022
till 31.12.2021
till 01.11.2021
I2GG20
Early Bird
Super Early Bird
04.09.2022 - 10.09.2022
till 31.12.2021
till 01.11.2021
I2GG21
Early Bird
Super Early Bird
11.09.2022 - 17.09.2022
till 31.12.2020
till 01.11.2020