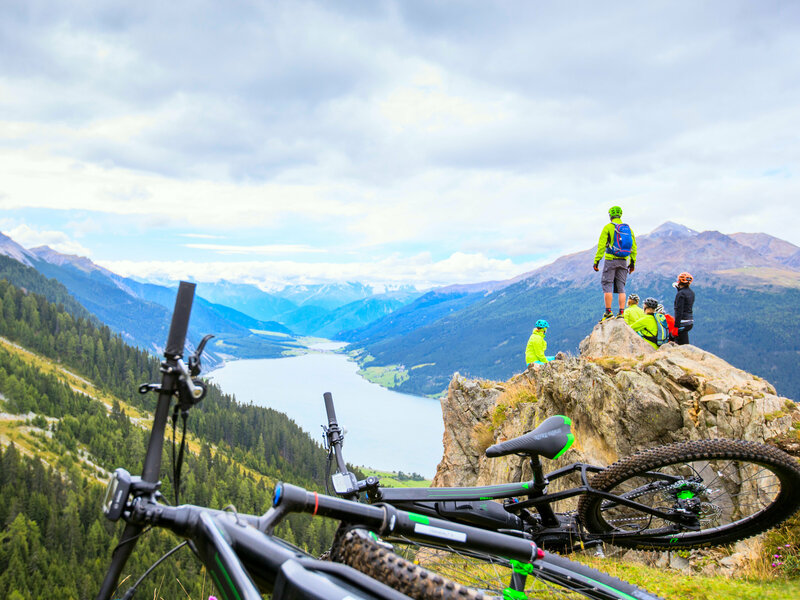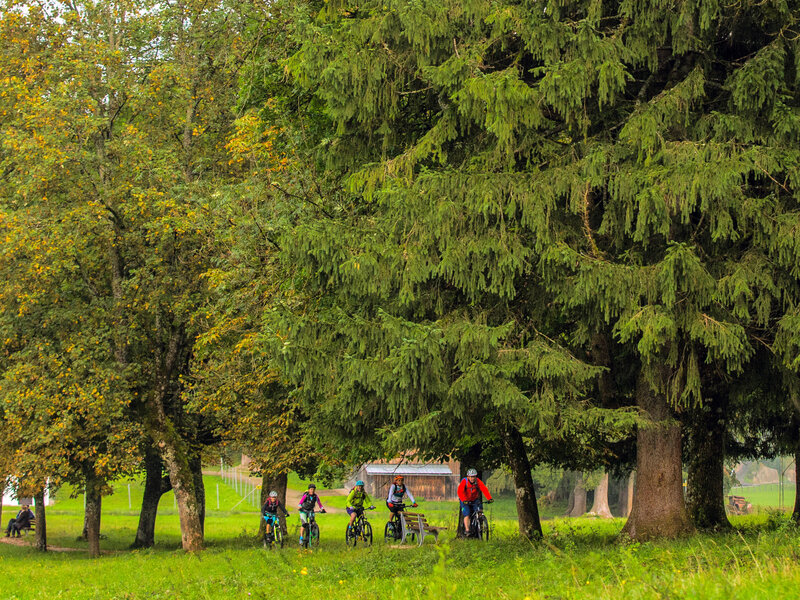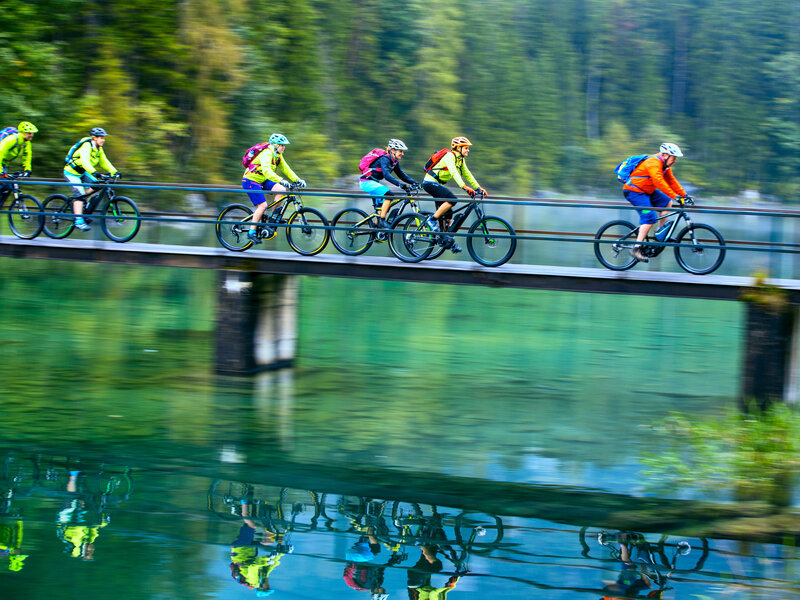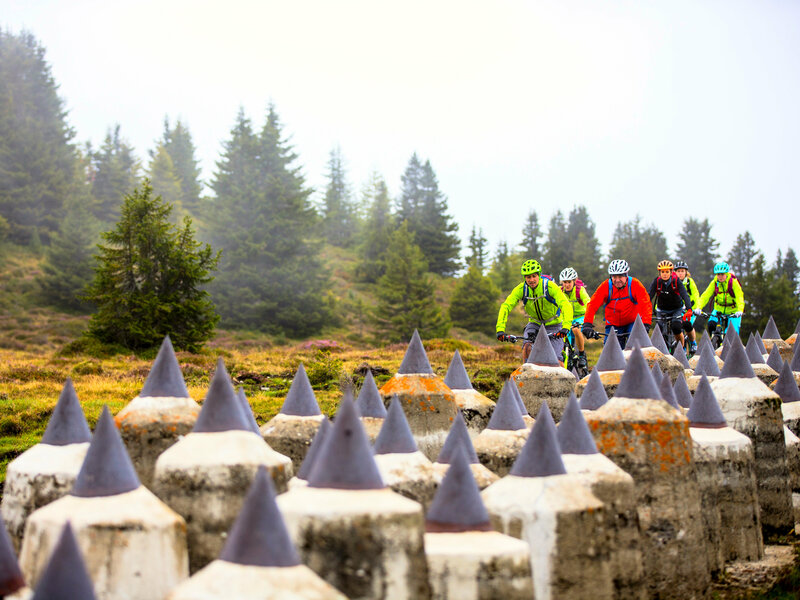 Garmisch - Lake Garda
Facts
This tour leads from Garmsich over the Reschenpass to Lake Garda. With about 6700 m ascent and 384 km in 5 stages this tour is ideally suited for E-Bikes.
Requirements
This tour includes the best single trails between Garmisch and Lake Garda. A basic fitness for longer climbs and technical basics should be present. The single trails are categorized as S1 and S2 (scale of single trails) for uphill and downhill.
Highlights
For landscape lovers: Zugspitzmassif, Eibsee, Inn Valley, Reschenpass, view of the magnificent Ortler, the apple orchards of the Vinschgau Valley, Brenta Dolomites, Molvenosee and last but not least Lago di Garda. For culture lovers: The romantic castle Fernstein, the medieval town of Glurns and the mediterranean spa town of Merano. For culinary delights: Bacon, cheese, Schlutzkrapfen, antipasti, pizza, tiramisu and cappuccino...
Route
From Garmisch we ride along the Eibsee and then over the panoramic mountain highway to Ehrwald. Passing the Weissensee we cycle further to the Fernpass and enjoy the downhill to Nassereith and then over Imst through the Inn Valley to Nauders. We follow the Roman road Via Claudia over the Reschenpass through Glurns in the South Tyrolean Etsch Valley to Merano. From there it goes further over the Gampenpass – with 1518 m ascent the highest pass of our tour – to Cles. On our last day we cycle past the beautiful Molvenosee to Lake Garda.
The book about the journey
17 Uhr Treffen zum gemeinsamen Abendessen in Grainau bei Garmisch. Kennenlernen, Bike-Check, Besprechung der Gesamttour anhand von Karten.
Monday
Etappe 1 - Von Grainau nach Imst: ca. 55 km; ca. 1500 hm
Von Grainau starten wir entlang des Eibsees in Richtung Hochthörle Hütte. Hier dürfen wir uns auf unsere erste Abfahrt freuen: Über Single Trails und Speed-Asphalt geht's runter in das österreichische Städtchen Ehrwald. Nach der Mittagspause kurbeln wir in schönem Auf und Ab über den Panoramaweg oberhalb von Biberwier zum Weißensee und über den Fernpass zum Schloss Fernsteinsee. Anschließend fahren wir entlang des alten Römerweges Via Claudia Augusta nach Imst.
Tuesday
Etappe 2 - Von Imst nach Nauders: ca. 70 km; ca. 1500 hm
Von Imst fahren wir über den Jakobsweg trailig nach Landeck. Nach einer kurzen Schiebestrecke kommen die Trails auf der Fließer Platte. Ab Prutz bleiben wir meist auf dem Radweg und machen bei Pfunds Rast auch um die Akkus zu laden. Der Anstieg ins Trailgebiet von Nauders hat es nochmal in sich und wir werden hier unseren Akku ziemlich leer fahren. Nach Nauders runter erwartet uns ein etwas ruppiger aber total spaßiger Single Trail zum Abschluss dieser Tagesetappe.
Wednesday
Etappe 3 - Von Nauders nach Meran: ca. 100 km; ca. 1400 hm
Heute jagt ein Highlight das nächste: Zuerst schrauben wir uns 700 Höhenmeter über den Reschenpass auf die Plamorter Hochebene hinauf, und gelangen auf wunderschönen Trails zu den Panzersperren. Dort warten gigantische Fernblicke hinunter ins Vinschgau, Richtung Ortler und natürlich auf den Reschensee auf uns. Über einen gut fahrbaren Forstweg und dann flowige Trails rollen wir hinab zum Reschensee und machen uns auf den Weg nach Italien. In der malerischen Altstadt von Glurns genießen wir einen ersten italienischen Cappuccino und können dabei unsere Akkus laden. Danach nehmen wir die Trails des Vinschgau in Angriff. Immer wieder verlassen wir den Etschtal Radweg um den ein oder anderen Trail zu fahren. Am Ende geht es speedig bergab nach Meran.
Thursday
Etappe 4 - Von Meran nach Cles: ca. 50 km; ca. 1550 hm
Heute liegt der Gampenpass vor uns! Zunächst radeln wir uns bis Lana warm. Ab hier führt eine kleine Straße parallel zur Passstraße hoch Richtung Völlan. Der Anfang ist recht steil aber dank Motor gut machbar, doch bald lässt die Steigung nach und hinter Völlan fahren wir auf herrlich schattigen Waldwegen bis zur Passhöhe. Im idyllischen kleinen Ort "Unsere liebe Frau im Walde" machen wir in einem der kleinen Gasthöfe Mittag und genießen die Blicke hinab ins Val di Non. Seit letztem Jahr gibt es eine wunderschöne Trailabfahrt ins Tal. Am Lago di Santa Giustina vorbei führt uns unser Weg nach Cles, Hauptort des Val di Non und unser heutiges Etappenziel.
Friday
Etappe 5 - Von Cles zum Gardasee: ca. 85 km; ca. 1900 hm
Heute wartet eine der landschaftlich schönsten Etappen unserer Transalp auf uns, außerdem steht fahrtechnisch sicherlich das Highlight der Woche auf dem Programm. Entlang des Dolomiti Brenta Trails fahren wir unzählige Kilometer auf super Trails. Die reinste Flow Orgie. Auch die paar kurzen steilere Rampen können wir mit unseren E-Bikes danke Extra Power spielerisch erklimmen. Eine Flowtrail Abfahrt bringt uns zum Molvenosee, wo wir eine ausgedehnte Mittagsrast am Seeufer einlegen. Nach der Pause fahren wir auf schönen Wanderwegen und nach einer flotten Abfahrt nach Ponte Arche. Unser letzter Pass wartet auf uns, der Passo Ballino. Diesen erreichen wir über schöne abgelegene Forststraßen. Ein paar kleine Anstiege stehen, der Abfahrt zum Tennosee und der letzten Abfahrt auf einem Downhillklassiker runter zum Gardasee, noch im Wege. Eine herrliche Aussicht über Riva und den nördlichen Gardasee erwartet uns. Ein Sprung in den See und dann lassen wir die Sektkorken knallen!
Nach dem Frühstück Rücktransfer nach Grainau bei Garmisch.
Services, dates and prices
Arrival
Selbstanreise nach Grainau.
Services
6 x ÜF im DZ in guten und gepflegten Hotels/Pensionen, z.T. mit Sauna und Pool
5 x HP
Tourenführung (Guide)
Gepäcktransport
Begleitfahrzeug
Rücktransfer
Online Bilderservice
Dates
E1GG11
Early Bird
Super Early Bird
03.07.2022 - 09.07.2022
till 31.12.2021
till 01.11.2021
E1GG15
Early Bird
Super Early Bird
31.07.2022 - 06.08.2022
till 31.12.2021
till 01.11.2021
E1GG20
Early Bird
Super Early Bird
04.09.2022 - 10.09.2022
till 31.12.2021
till 01.11.2021