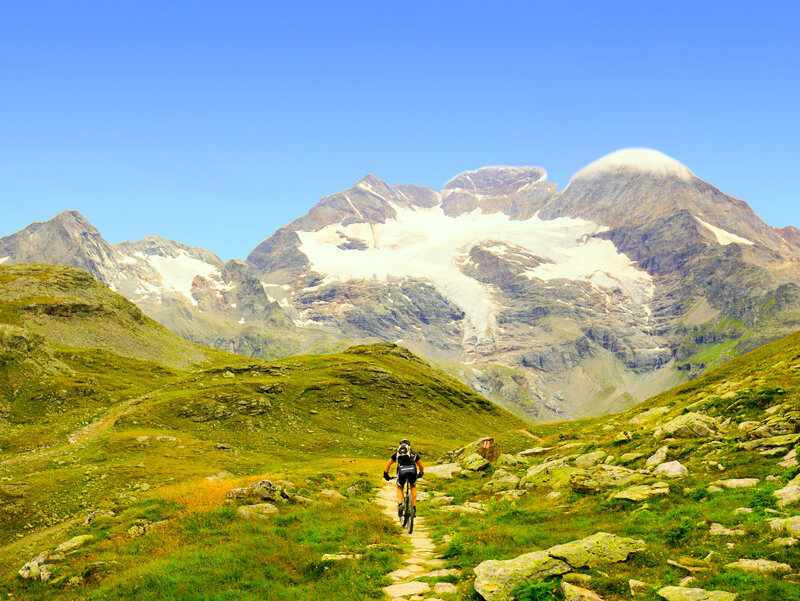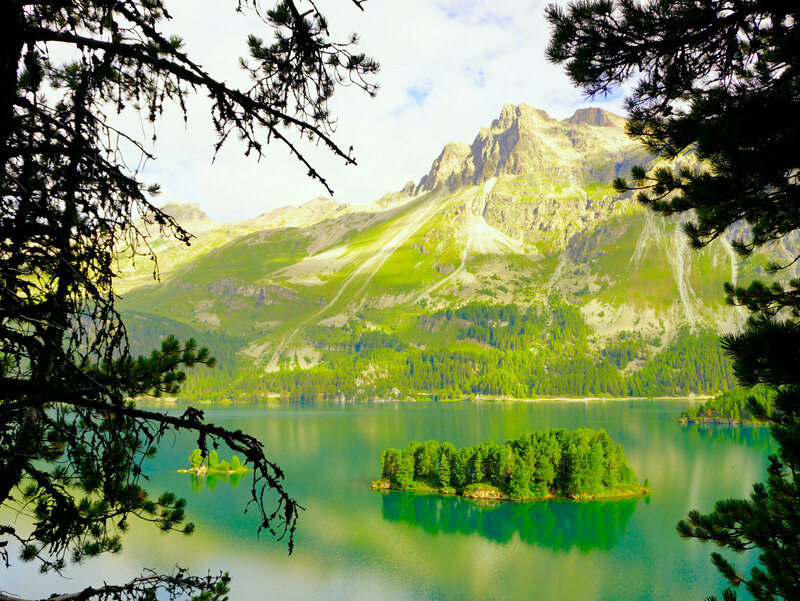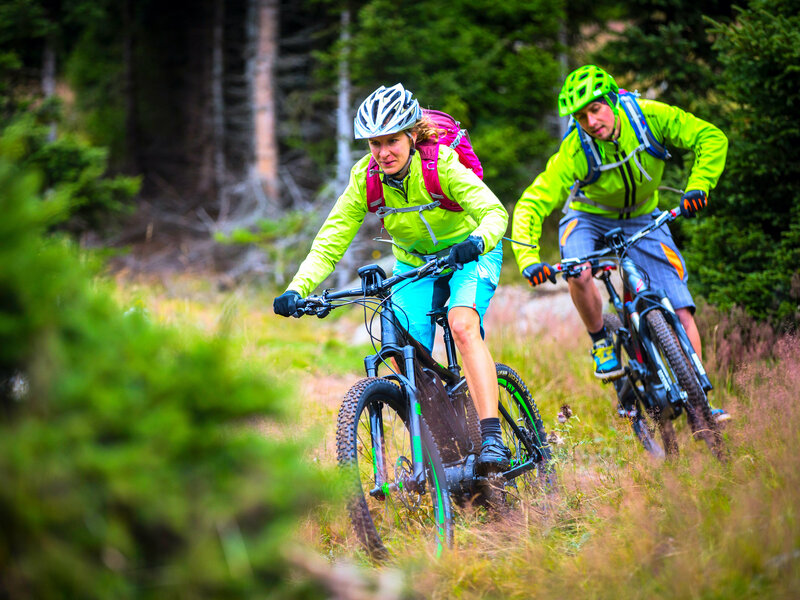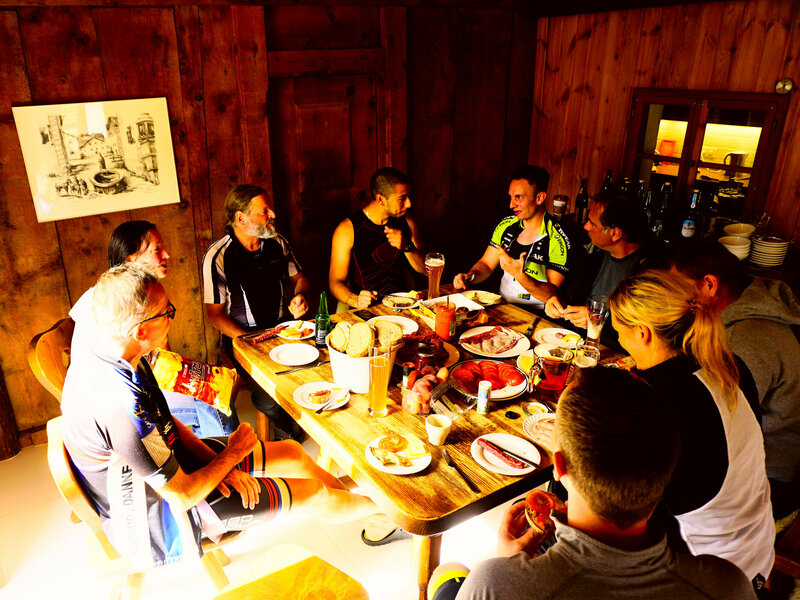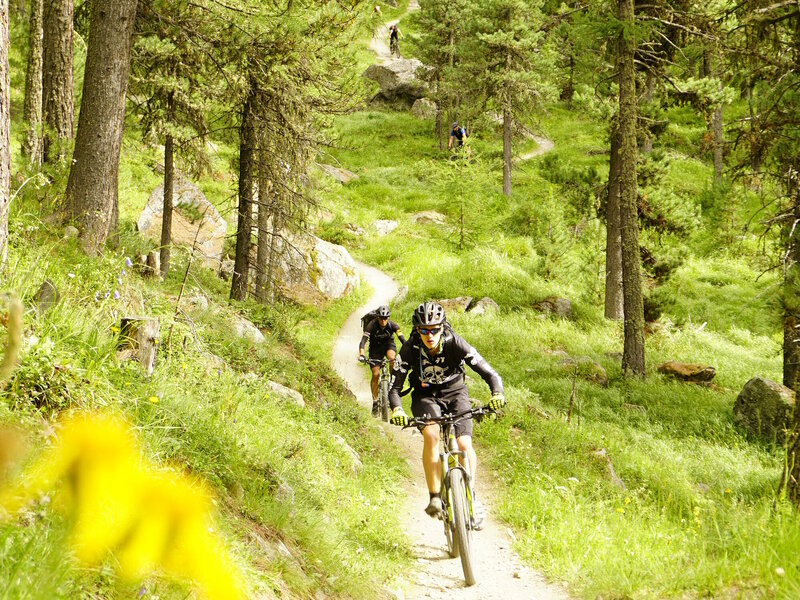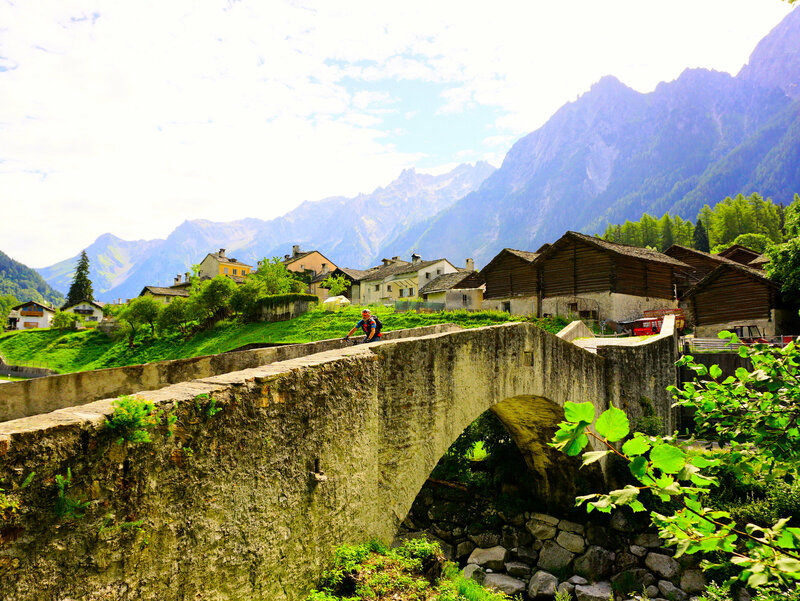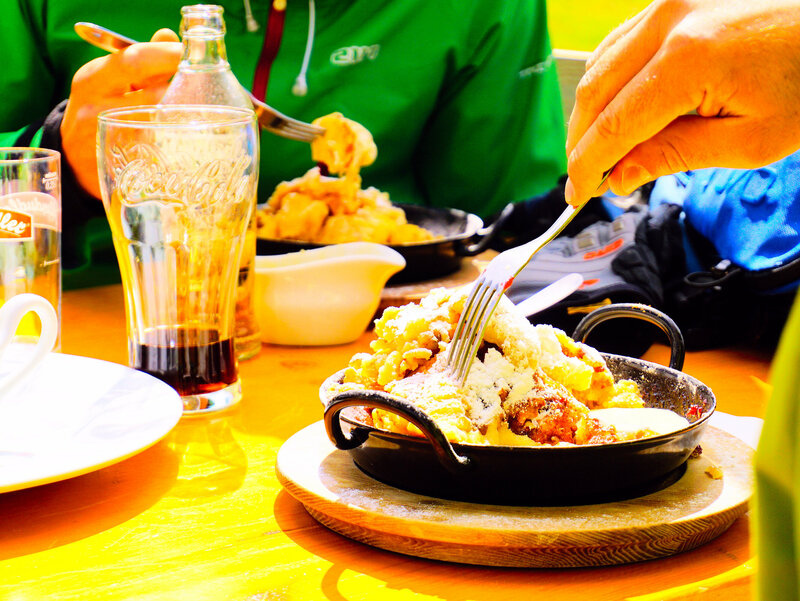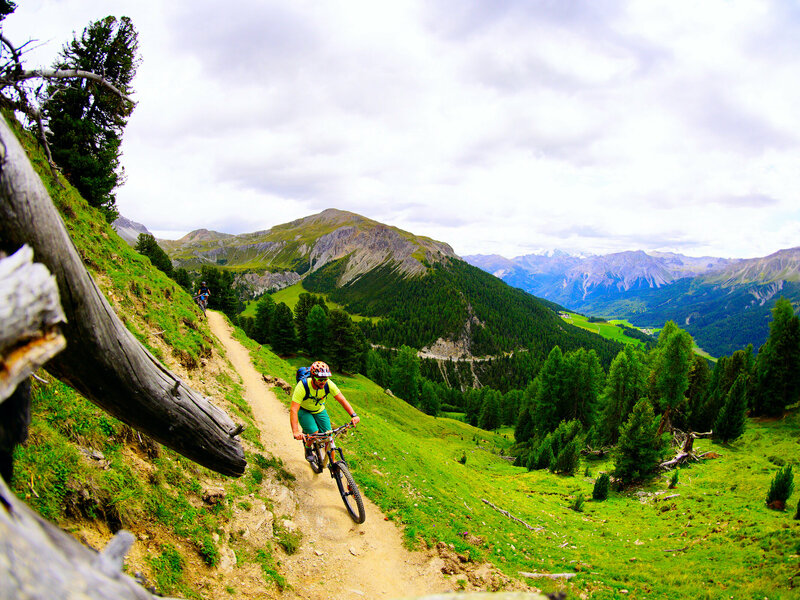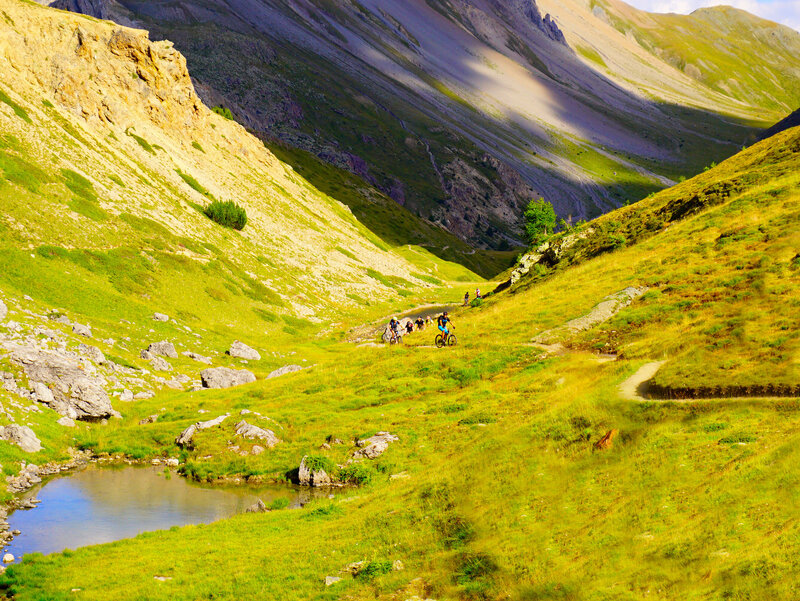 Garmisch - Lake Como
Facts
This tour leads from Garmsich over partly high-alpine passes through Livigno to Lago di Como. With 7100 m ascent and about 399 kilometers in six stages this traily tour is ideally suited for well trained and technically confident E-Bikers.
Requirements
This tour runs along our Garmisch – Lake Como mountainbike route. We integrate gondola trips again and again to avoid overloading our batteries. We will take our lunch breaks in such a way that we can recharge our batteries. A good basic endurance is necessary for this tour.
Highlights
Landscape, scenery, landscape – namely very high-alpine: the impressive Zugspitzmassif, the high-alpine border crossings between Austria and Switzerland, lonely wide valleys in the Swiss National Park, view of the 4000+ m peaks of the glaciated Bernina massif, the beautiful blue Upper Engadine lakes around St. Moritz, the original Bergell and our dream destination Lake Como.
Route
From Garmisch we ride to the picturesque lakes of the Zugspitzarena and over the Fernpass into the Inn Valley. Through the Paznaun we ride to Ischgl and over the high-alpine border to Switzerland. On the edge of the Swiss National Park we discover unspoilt nature in the Val S-Charl and continue cycling over the Ofenpass to the sporty styled Livigno in Italy. At Forcola di Livigno we head back to the Swiss Canton Graubünden and along the lakes of the Upper Engadine past Bergell before reaching Lago di Como with its mediterranean climate.
The book about the journey
17 Uhr: Treffen zum gemeinsamen Abendessen in Grainau bei Garmisch. Kennenlernen, Bike-Check, Mietbikes anpassen. Besprechung der Gesamttour anhand von Karten.
Sunday
Etappe 1 - Von Grainau nach Imst: ca. 75 km; ca. 1050 hm
Von Grainau starten wir in Richtung des idyllisch gelegenen Plansees. Anschließend führt unser Weg uns vorbei am Weißensee und zum Anstieg zum Fernpass. Abseits der Straße bezwingen wir diesen, dank Motor, schnell und freuen uns über den wunderschönen Singletrail der uns zum Schloss Fernsteinsee bringt. Die letzten Kilometer bis nach Imst folgen wir den Spuren der Römer auf der Via Claudia.
Monday
Etappe 2 - Von Imst nach Ischgl: ca. 55 km; ca. 1200 hm
Von Imst kurbeln wir zunächst entlang des Jakobsweges nach Landeck. Ein kurzer Abstecher zum Fuße der markanten Kronburg bietet einen tollen Eindruck vom Inntal. Auf dem abwechslungsreichen Paznauner Talweg fahren wir - sozusagen auf dem Balkon im ersten Stock über dem Tal - in sanften Wellen weiter nach Ischgl. Man merkt kaum, wie sich die Höhenmeter summieren. In Ischgl holen wir uns die Gondelkarte und fahren nochmals mit der Bahn hoch im FlowTrails zu fahren.
Tuesday
Etappe 3 - Von Ischgl nach Scuol: ca. 65 km; ca. 1400 hm
Mit der Seilbahn fahren wir aufs Idjoch und staunen über das hochalpine Panorama. Wir schrauben uns die letzten steilen Meter weiter hinauf und überqueren den Alpenhauptkamm auf spektakulären Kammwegen – von dort geht es auf Forststraßen und einfachen Trails in ein ruhiges, grünes Tal hinunter nach Samnaun und weiter ins Inntal. Entlang des Inns radeln wir schließlich durch das Unterengadin bis Scuol.
Wednesday
Etappe 4 - Von Scuol nach Livigno: ca. 60 km; ca. 1550 hm
Von Scuol aus fahren wir (fast) durch den Schweizer Nationalpark nach S-charl und wähnen uns schon beinahe in Kanada. So weit, mächtig und einsam scheint die Landschaft. Hier machen wir Rast und laden die Akkus. Am Nachmittag geht es über den Passo Costainas zum Ofenpass, hier laden wir nochmals. Dann geht es runter ins Val Mora und über den Passo Trela nach Livigno. Das sind hier schon Trails der Extraklasse. Wir werden erst am frühen Abend in Livigno ankommen.
Thursday
Etappe 5 - Von Livigno nach Silvaplana: ca. 55 km; ca. 900 hm
Mit der Mottolino Bahn fahren wir hoch auf die Höhentrails von Livigno und fahren Richtung Forcola di Livigno. Weitere Uphill Trails bringen uns noch ein paar Höhenmeter hoch, dann beginnt ein grandioser Abfahrtsspaß bis Pontresina. Zwischendrin können wir an der Bahnstation Morteratsch bei Kaffee und Kuchen den unvergesslich schönen Blick auf die Berninagruppe und den Morteratschgletscher genießen. Unweit des Cafés liegt eine sehenswerte Schaukäserei. Weiter geht's auf schönen Wegen nach St. Moritz Bad. Die letzten Kilometer radeln wir entlang der Oberengadinern Seen bis nach Silvaplana.
Friday
Etappe 6 - Von Silvaplana an den Comer See: ca. 90 km; 300 hm
Wir starten gemütlich und fahren weiter nach Süden. Im glasklaren Wasser der Oberengadiner Seen spiegeln sich die umliegenden Berge. Ein kurzer Abstecher bringt uns zu einer traumhaft gelegenen urigen Alm und einem wild-romantisch gelegenen Bergsee. Am Malojapass ändert sich die Szenerie. Steile und elegante Berge aus Granit, ausgedehnte Wälder und kleine, an Geschichte und Kunst reiche Dörfer prägen das Bergell, in dem die Zeit scheinbar langsamer läuft, als anderswo. Das Klima wird spürbar mediterraner während wir durch Kastanienwälder und urige Dörfer nach Chiavenna abwärts düsen. Nach einem leckeren Eis sind es nur noch wenige Kilometer bis zu unserem Ziel.
Nach dem Frühstück Rücktransfer nach Grainau bei Garmisch.
Services, dates and prices
Arrival
Selbstanreise nach Grainau.
Services
7 x ÜF im DZ in guten und gepflegten Hotels/Pensionen, z.T. mit Sauna und Pool
6 x HP
Tourenführung (Guide)
Gepäcktransport
Begleitfahrzeug
Gondeltickets
Rücktransfer
Online Bilderservice
Dates
E1GC19
Early Bird
Super Early Bird
27.08.2022 - 03.09.2022
till 31.12.2021
till 01.11.2021