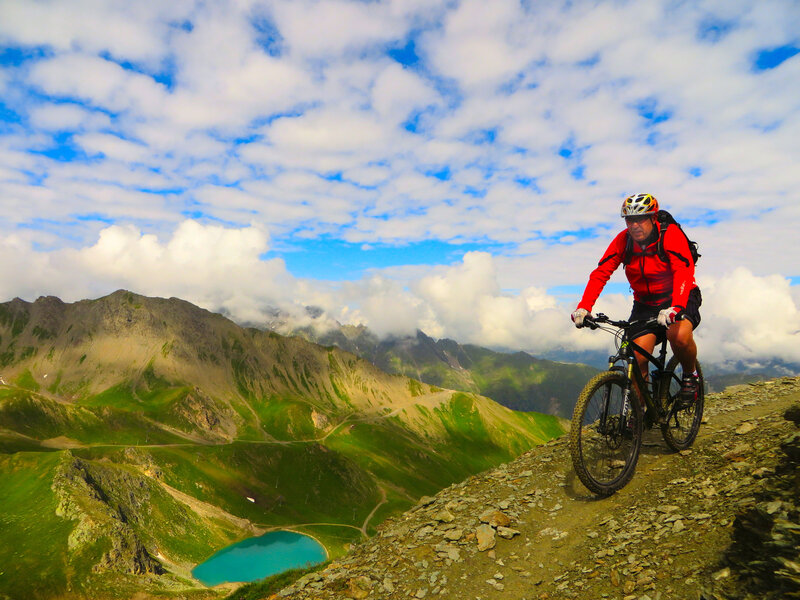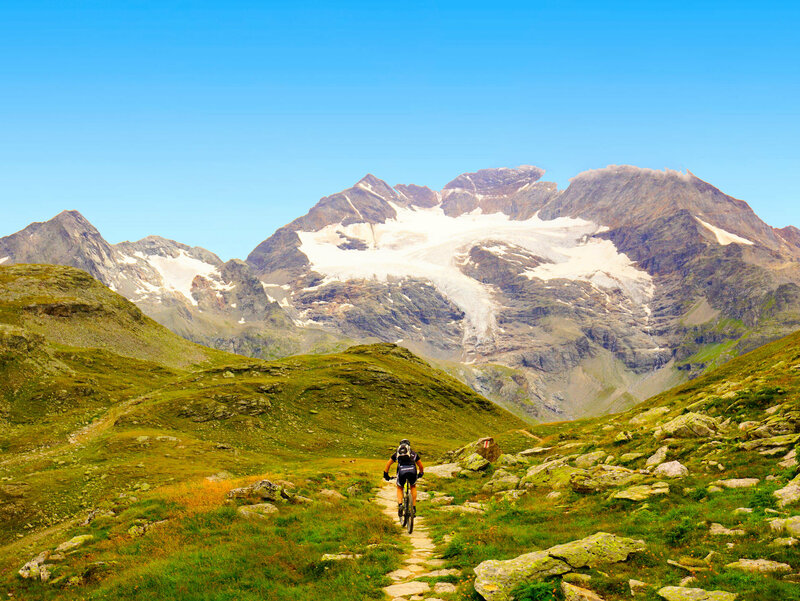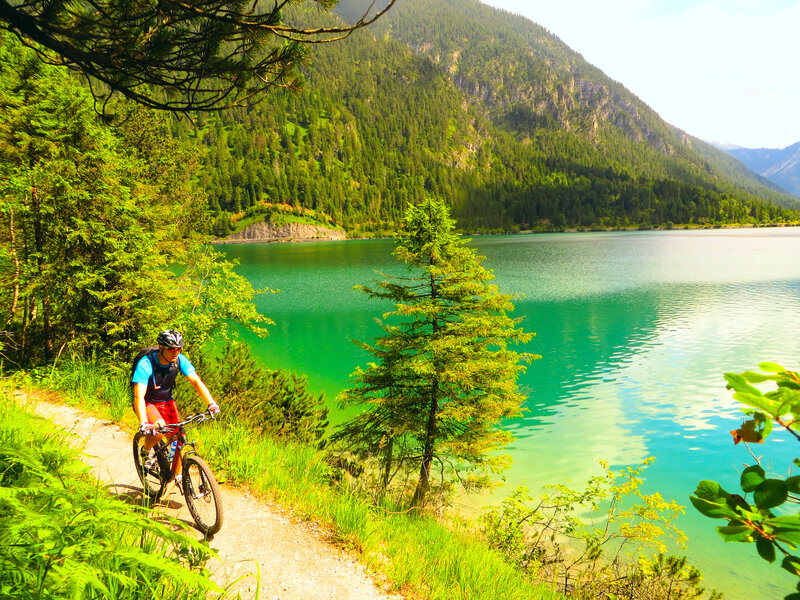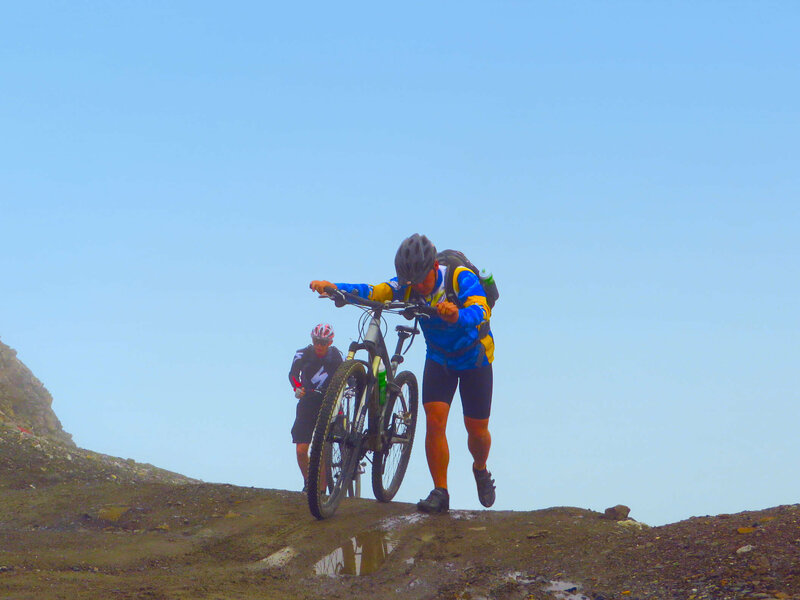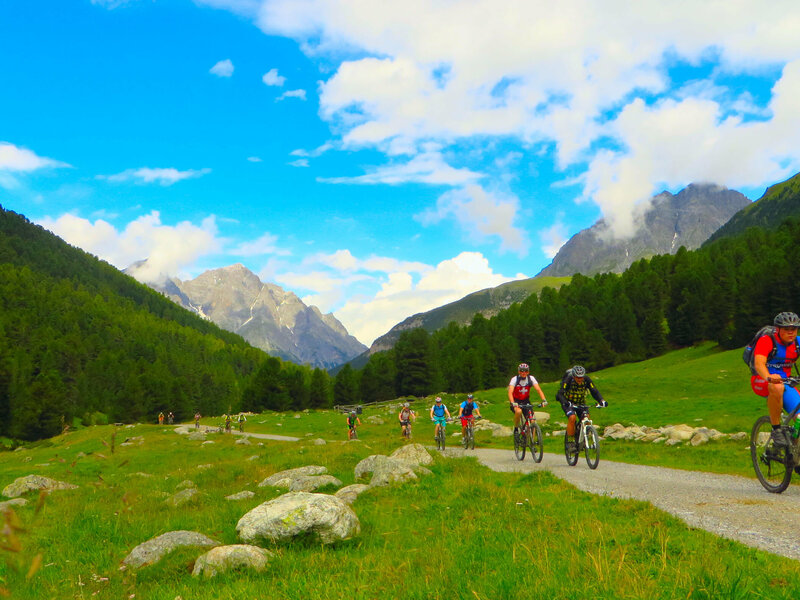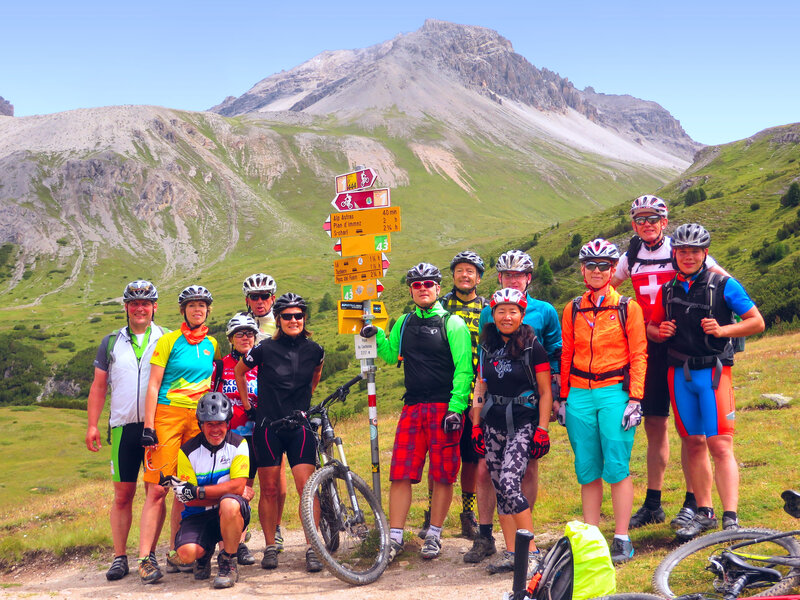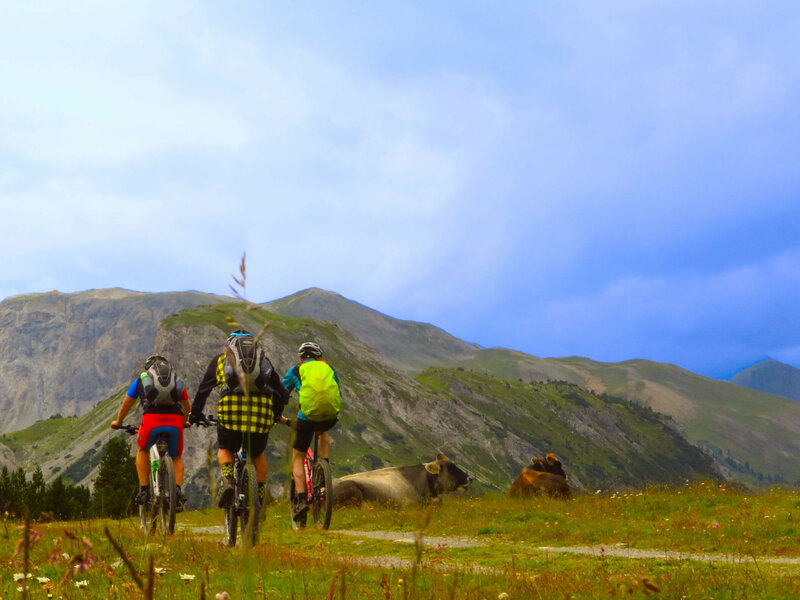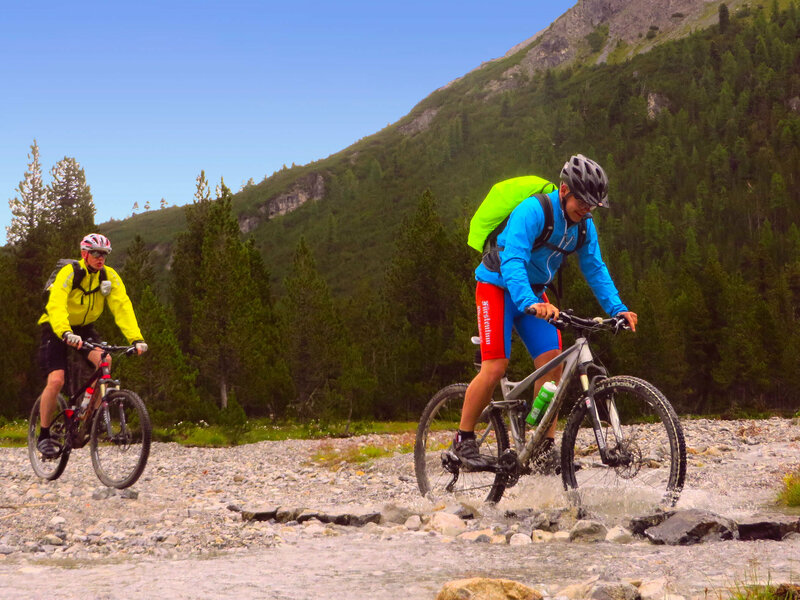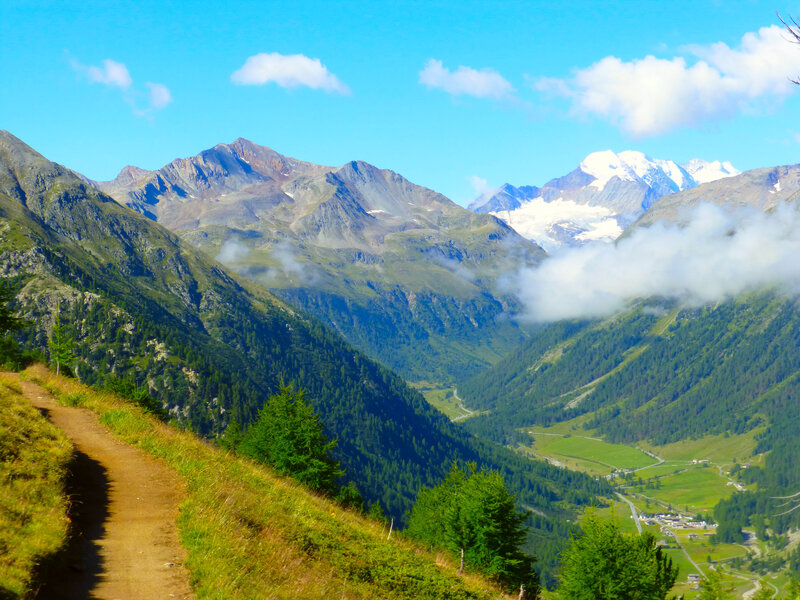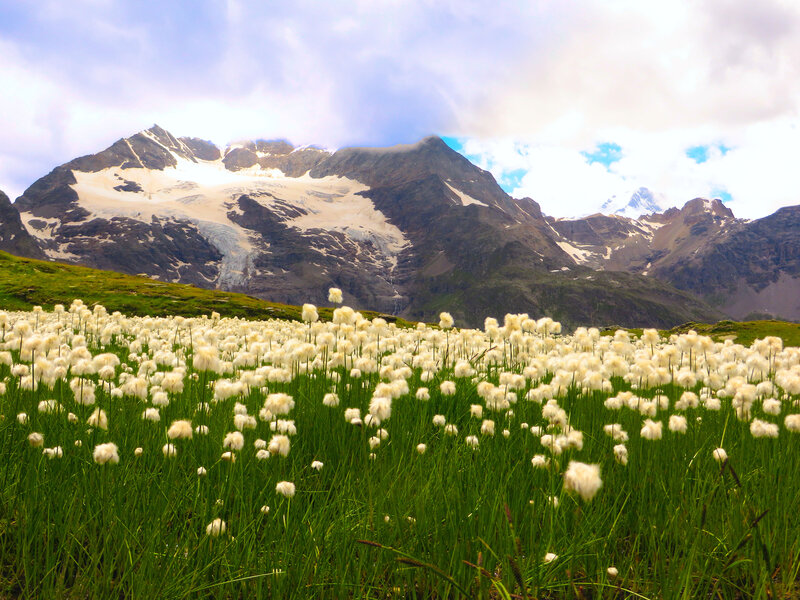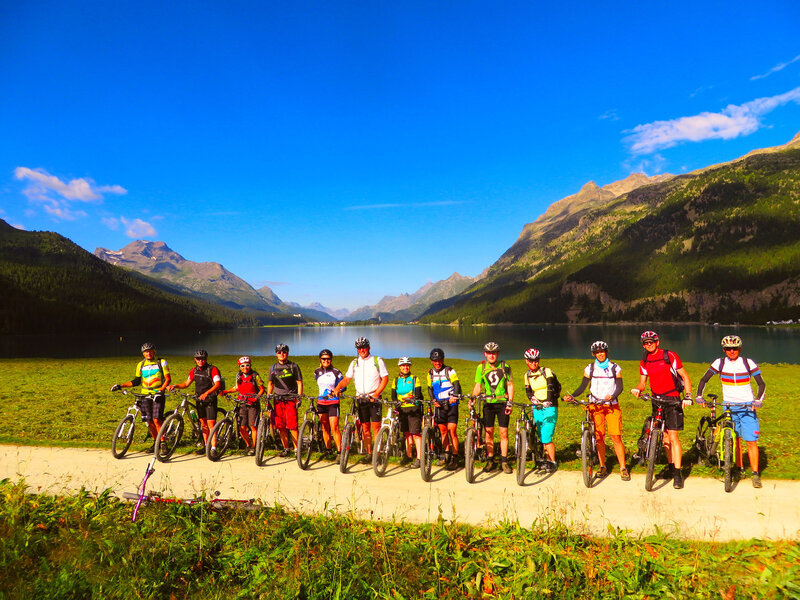 Garmisch - Lake Como
Facts
This tour leads from Garmisch over partly high-alpine passes through Livigno to Lago di Como. With 7100 m ascent and about 396 kilometers in six stages this tour is ideally suited for well trained beginners. Ausgestattet mit Kartenausschnitten, Roadbooks und Hinweisen auf touristische Highlights, radelt Ihr in Eigenregie über die Alpen. Wir übernehmen die Reiseorganisation. Zu Eurer eigenen Sicherheit könnt Ihr Euch ab zwei Personen zu einer individuellen Transalp anmelden.
Requirements
This tour runs mainly along marked cycle paths. The stages are generally not particularly difficult. Nevertheless, driving technique skills especially for single trail passages and the partly long gravel descents should already exist. A good basic endurance is necessary for this tour.
Highlights
Landscape, scenery, landscape – namely very high-alpine: the impressive Zugspitzmassif, the high-alpine border crossings between Austria and Switzerland, lonely wide valleys in the Swiss National Park, view of the 4000+ m peaks of the glaciated Bernina massif, the beautiful blue Upper Engadine lakes around St. Moritz, the original Bergell and our dream destination Lake Como.
Route
From Garmisch we ride to the picturesque lakes of the Zugspitzarena and over the Fernpass into the Inn Valley. Through the Paznaun we ride to Ischgl and over the high-alpine border to Switzerland. On the edge of the Swiss National Park we discover unspoilt nature in the Val S-Charl and continue cycling over the Ofenpass to the sporty styled Livigno in Italy. At Forcola di Livigno we head back to the Swiss Canton Graubünden and along the lakes of the Upper Engadine past Bergell before reaching Lago di Como with its Mediterranean climate.
The book about the journey
Selbstanreise nach Grainau bei Garmisch, Check-In, Abendessen.
Sunday
Etappe 1 - Von Grainau nach Imst: ca. 75 km; ca. 1050 hm
Von Grainau aus geht es heute zum idyllisch gelegenen Plansee. Über Biberwier, den Fernpass und die Via Claudia gelangt ihr dann entspannt nach Imst.
Monday
Etappe 2 - Von Imst nach Ischgl: ca. 55 km; ca. 1400 hm
Auf dem Inntalradweg Richtung Landeck radelt ihr euch warm bis der Anstieg zur markant gelegenen Kronburg beginnt. Von dort aus habt ihr einen tollen Blick aufs Inntal. Weiter geht es auf dem abwechslungsreichen Paznauner Talweg leicht erhöht über dem Tal Höhenmeter für Höhenmeter sammelnd nach Ischgl.
Tuesday
Etappe 3 - Von Ischgl nach Scuol: ca. 65 km; ca. 1400 hm
Hoch hinaus geht es heute zunächst mit der Seilbahn auf das Viderjoch, wo euch aufgrund des Panoramas der Atem stocken wird. Voller Endorphine schraubt ihr euch das letzte steile Stück bis zur Greitspitze hinauf von wo aus ihr den Alpenhauptkamm auf spektakulären Kammwegen überquert. Anschließend bringen euch Forststraßen und einfachen Trails in ein ruhiges grünes Tal nach Samnaun und weiter ins Inntal. Auf einem Panorama-Höhenweg fahrt ihr schließlich durch das Unterengadin nach Scuol.
Wednesday
Etappe 4 - Von Scuol nach Livigno: ca. 60 km; ca. 1550 hm
Von Scuol aus bringt euch die Route vorbei am Schweizer Nationalpark nach S-charl. Die weite, einsame Landschaft erinnert euch vielleicht ein bisschen an Kanada. Über den Passo Costainas kurbelt ihr zum Ofenpass. Von hier geht es im 450 Tiefenmeterrausch zu einem Tunnel. Durch diesen lasst ihr euch gemütlich nach Livigno shuttlen: Benvenuto in italia!
Thursday
Etappe 5 - Von Livigno nach Silvaplana: ca. 50 km; ca. 1050 hm
Über lässige Trails verlasst ihr Livigno und über den Forcola di Livigno geht es zurück in die Schweiz. Nach einem kurzen Downhill heißt es auf Asphalt hochkurbeln zum Bernina-Pass, wo ihr mit Trailspaß belohnt werdet. Ein weiterer schöner Singletrail bringt euch nach Pontresina und auf schönen Wegen gelangt ihr nach St. Moritz Bad. Von hier geht es entlang der Oberengeadiner Seen gediegen bis nach Silvaplana.
Friday
Etappe 6 - Von Silvaplana an den Comer See: ca. 90 km; ca. 650 hm
Nach einem gemütlichen Start Richtung Süden vorbei am glasklaren Wasser der Oberengadiner Seen machen wir einen kurzen Abstecher zu einer urigen Alm in traumhafter Lage mit wildromatischem Bergsee. Angekommen am Malojapass verändert sich die Szenerie: Steile, elegante Berge aus Granit, ausgedehnte Wälder und kleine Dörfer prägen das Bergell, in dem die Zeit scheinbar noch langsamer läuft. Langsam wird das Klima mediterraner, während ihr durch Kastanienwälder und urige Dörfer nach Chiavenna düst. Vielleicht gönnt ihr euch als Stärkung vor den letzten Kilometern noch ein Eis oder ihr radelt direkt weiter zum lang ersehnten Transalpziel. So oder so: Am Comer See heißt es Anstoßen auf den vollbrachten Alpencross.
Nach dem Frühstück: Abfahrt des Shuttles zurück nach Grainau bei Garmisch.
Services, dates and prices
Arrival
Selbstanreise nach Grainau bei Garmisch.
Services
7 x ÜF im DZ in guten und gepflegten Hotels/Pensionen, z.T. mit Sauna und Pool
6 x HP
Gepäcktransport
Begleitfahrzeug
Buch mit Tourenbeschreibung und GPS-Tracks
Kurzeinweisung durch ULPbike Guide am Anreisetag
Handynummer eines ULPbike Guides
Rücktransfer
Dates
I1GC10
Early Bird
Super Early Bird
25.06.2022 - 02.07.2022
till 31.12.2021
till 01.11.2021
I1GC12
Early Bird
Super Early Bird
09.07.2022 - 16.07.2022
till 31.12.2021
till 01.11.2021
I1GC13
Early Bird
Super Early Bird
16.07.2022 - 23.07.2022
till 31.12.2021
till 01.11.2021
I1GC16
Early Bird
Super Early Bird
06.08.2022 - 13.08.2022
till 31.12.2021
till 01.11.2021
I1GC18
Early Bird
Super Early Bird
20.08.2022 - 27.08.2022
till 31.12.2021
till 01.11.2021
I1GC19
Early Bird
Super Early Bird
27.08.2022 - 03.09.2022
till 31.12.2021
till 01.11.2021
I1GC20
Early Bird
Super Early Bird
03.09.2022 - 10.09.2022
till 31.12.2021
till 01.11.2021